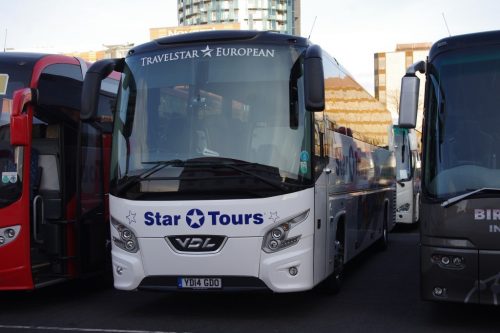 Walsall-based coach operator Travelstar European has moved to larger premises in Portland Street – having outgrown its previous home of 12 years in Marlow Street.
The £1m investment has been assisted by Santander Corporate & Commercial bank, which has among other services, supplied a commercial mortgage.
Established in 2005 with three vehicles, Travelstar European now operates 12 coaches and has more than 30 employees. The firm has become an established operator in the UK and the European coach touring market and is also a National Express partner operator.
Asif Mohammed, Managing Director, Travelstar European Ltd, said: "Travelstar has started 2017 in great shape and we have big ambitions for the future. I would like to thank Santander Corporate & Commercial for its continuing support as well as partner operators from Volvo, Moseley PCV, ATS Euromaster, Michelin, Hoverland, and National Express, all of which have played a key part in our growth and success."
Dalia Ahmed, Relationship Director, Santander Corporate & Commercial, said: "We're delighted to have been able to support the Management team at Travelstar European over the past five years and help the firm expand. We aim to help business owners prosper through a suite of services, providing tailored support at every stage of their development. Travelstar European have developed strong relationships with many names in the market, and has clear aspirations to become even more successful – not just in the Midlands but throughout the UK."