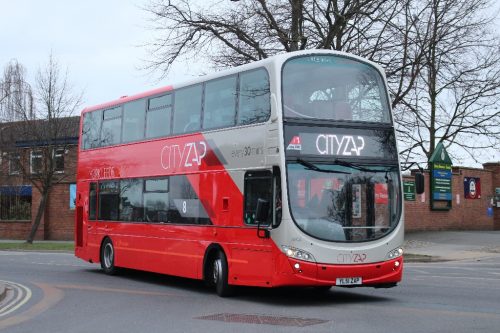 Alex Hornby, Chief Executive Officer at Transdev Blazefield, outlines to Jade Smith Transdev's two routes connecting York and Leeds, with the help of some people who work on the services first-hand
Alex Hornby, Chief Executive Officer at Transdev Blazefield, met me at York rail station. While we waited for our bus to arrive, he provided an introduction to the two services we would be sampling that day: Cityzap and Coastliner.
"The Cityzap service runs from York city centre to Leeds city centre with the one way trip taking as little as 45 minutes," Alex began. "Coastliner starts in Leeds, passes through York onto Malton and then branches off to Whitby, Scarborough and Bridlington. Leeds to York takes just over an hour. We've coordinated it so that a bus is leaving York and Leeds every 15 minutes.
"Our York depot runs Cityzap while Coastliner is based at Malton.
"The roadside information is produced by the authorities in York and Leeds. We encourage them to put the brand name of the service up rather than the number. 'Coastliner' is written on the bus destination blinds because our passengers are looking for the Coastliner service usually, instead of the 840 or 843. It's the same for Cityzap – providing a route number is an unnecessary complication for the customer. A brand name is far more memorable."
A Coastliner service pulled up, so Alex took the opportunity to […]
What you get with a subscription
Operator & Supplier Profiles
Face-to-Face Interviews
Lastest News
Test Drives and Reviews
Legal Updates
Route Focus
Industry Insider Opinions
Passenger Perspective
Vehicle Launches
and much more!