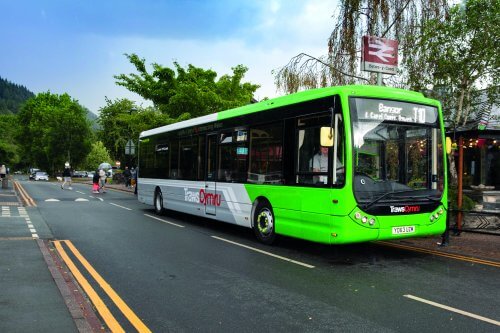 Transport for Wales is funding a new TrawsCymru service and launching a new all day ticket for North Wales
A new pilot TrawsCymru service has started between Bangor and Corwen, which aimes to provide a more sustainable way of travelling in and around Snowdonia National Park. Local operators K&P Coaches and Llew Jones have won the contract to operate the new service.
Over the next 12 months the T10, funded by Transport for Wales, will operate between Bangor and Corwen, serving all stops. Connections with the existing T3 service in Corwen will allow passengers to continue their journey onwards towards Llangollen and Wrexham.
The service will run daily from early morning to mid-evening and it is hoped that it will encourage residents and tourists to leave their cars behind and take the bus to visit popular rural destinations such as Betws y Coed, Llyn Ogwen and Capel Curig. Passengers will also be able to use the new 1Bws day ticket on this service, which offers travel across North Wales all day for £5.70 per adult.
To celebrate the launch of this new service, TrawsCymru will operate journeys free of charge during the first two weeks to encourage as many people as possible to see the benefits of travelling by bus for themselves. Fares will be charged from 15 August. Passengers will be unable to make local journeys on the T10 for the first free week between Bangor and Bethesda.
Lee Robinson, Development Director for Mid, North and Rural Wales stated: "I'm delighted we've been able to secure the funding for this new bus service, which not only provides a more sustainable mode of transport, it's also part of the wider integrated transport plans we're trying to build here in North Wales, as part of the North Wales Metro Programme. It's great to see the transport connections we're able to bring to more rural areas of North Wales and to support our communities by staying connected. We'd like to thank Denbighshire County Council for tendering this service on our behalf."
Councillor Brian Jones, Lead Member for Waste, Transport and the Environment for Denbighshire County Council, added: "The T10 is important in bridging a significant gap in the current bus network by allowing residents and visitors to do something they currently cannot. With the introduction in July 2021 of the new '1bws' all-operator ticket, this really opens up sustainable travel opportunities to and from South Denbighshire and the Dee Valley in a way we have not enjoyed before."
Emyr Williams, Snowdonia National Park Authority's Chief Executive said: "This new bus service will provide a more sustainable and relaxed travel experience around Snowdonia especially during the peak season. There are great benefits to using a more sustainable form of transport, for example reducing carbon footprint, and therefore reducing our effect on global warming and climate change. It can also be a chance to enhance the experience of your visit by enabling you to relax and enjoy the views without the added stress of traffic and parking."
Councillor Gareth Griffith, Gwynedd Council's Cabinet Member for Environment said: "As a council, we want to ensure that there are sustainable and affordable transport options for local people and those who visit the area to enjoy Gwynedd's stunning outdoors. We are very pleased to see this important development which will offer additional options for people wishing to travel in this area – for both local people and those visiting the area who wish to leave the car at home. The new T10 service will offer a transport link around the foothills of Yr Wyddfa, linking from Bangor train station, on to Llyn Ogwen and beyond."
Councillor Philip Evans, Public Transport champion for Conwy County Borough Council added: "This new route will improve public transport access to the south of Conwy County and link a number of key employment centres not currently served by public transport. It will also enhance the role of Betws y Coed as a transport hub, providing connection to the railway system. We're very pleased that Transport for Wales is introducing this service and believe that it will be welcomed by residents."