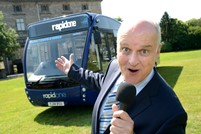 Trent barton has unveiled its 100th bus with audio-visual technology fitted.
Buses fitted with a next stop announcement system have proved popular on routes serving Derby. They are currently being used on the firm's indigo, i4, red arrow, mickleover, H1, skylink derby, the sixes, and swift services.
The latest talking bus is one of 16 new lightweight Optare Versa buses destined for the rainbow one and rapid one routes, serving Derbyshire and Nottingham and was unveiled by the voice of the X-Factor, Peter Dickson.
Alex Hornby, trent barton Marketing and Communications Director, commented: "We have just invested around £2 million in the new buses, and the announcement system was top of our list when it came to specifying the new vehicles.
"We are committed to making bus travel more accessible for people with disabilities and will continue to roll out talking buses across Derbyshire and Nottinghamshire."
The initiative has been welcomed by Guide Dogs. Kelly France, Engagement Officer for the charity, said: "Guide Dogs are pleased that trent barton is making the investment into audiovisual next stop announcements on its new buses.
"Talking buses help to enable people who are blind or visually impaired to be more independent and feel more confident when travelling.
"Only 20% of buses are fitted with audiovisual in the whole of the UK, so we're fortunate to have forward-thinking transport providers like trent barton in this region. Nearly half of their buses have audiovisual, helping to ensure people with sight loss can confidently and competently travel self-reliantly."