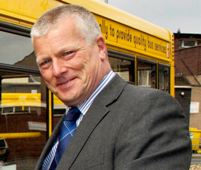 Tragic death of chairman of TAS Partnership and former Go North East MD a sad loss to the industry
Coach and Bus Week would like to pay tribute to Peter Huntley, who was tragically killed in a fall from High Street Fell in the Lake District on Sunday (February 19).
Peter (54), a keen cyclist, climber and walker, was preparing for a trek to the North Pole in aid of transport charity Transaid in April, having stepped down as managing director of Go North East (GNE) last year.
He was highly esteemed across the industry, not least for his forward-thinking approach, lively personality and commitment to public transport and he more than made his mark transforming GNE.
Peter was chairman of the TAS Partnership consultancy, which he was the driving force behind. Longstanding colleague and TAS director John Taylor was with Peter when the accident took place.
"Peter slipped and fell near the summit of High Street, and fell approximately 700 feet," said John. "It was a tragic accident, and our only consolation is he was doing something he loved on a beautiful day, full of plans and optimism for the future."
Adrian Grant, managing director of TAS, said: "We are all deeply shocked by this tragic accident. Peter's leadership was an inspiration to us all, and we shall miss him very much indeed."
TAS director Chris Cheek, with whom Peter co-founded the UK Bus Awards in 2005, commented: "In the 22 years I have known and worked with Peter, he has maintained his total belief in the future of high quality public transport in the UK. Whether writing in the trade press, advising clients or running a bus business at the sharp end, his commitment was total, and he never wavered from his passionate commitment to serving the customer."
Peter was born in Hartlepool and started working in buses at the age of 15 as an office junior. He worked his way up, taking night classes to gain qualifications to progress. After a career in transport operations and planning, which started at Hartlepool Corporation Transport and included spells at Grampian Regional Council and Lancashire County Council, Peter co-founded trade magazine Local Transport Today, and went on to launch his own specialist public transport consultancy, the TAS Partnership in 1989. After relinquishing day-today involvement of TAS in 2005, Peter took to the helm of Go North East in 2006 and as chairman of TAS, he led the company's transition into an employee-owned business in the autumn of 2009.
Paying tribute to Peter, David Brown, chief executive of the Go-Ahead Group said: "We were extremely saddened to hear the news of Peter's death. Peter had worked at GNE for six years, during which time the business was transformed under his leadership. Peter cared deeply about public transport and passenger service and will be missed by everyone who knew him. Our thoughts are with Peter's family and friends."