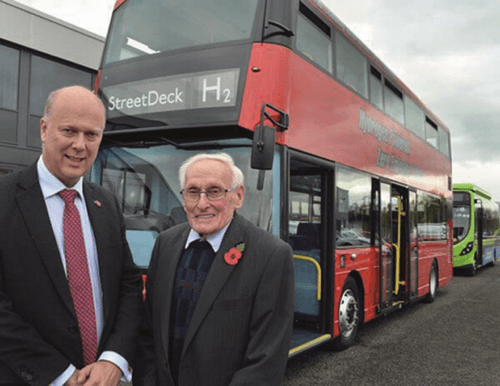 The well-known founder of Wrightbus passed away on 24 July at the age of 94
The sad news that Sir William Wright passed away on Sunday 24 July has seen many reactions on social media from those that knew him over his long career in the industry, which started in 1946 after founding Wrightbus with his father, Robert Wright.
Sir William, who was also a unionist councillor until 2005, was well respected throughout the bus industry and was seen as a visionary, but he was also a political and business leader in Northern Ireland, with many politicians taking to social media to voice their sorrow at his passing.
North Antrim MP Ian Paisley said: "I wish to extend to Lady Wright and to all the family my and my family's and our party's sincerest condolences for their loss. Sir William was a giant character. He was one of the last true captains of industry and commerce and a man who has left his mark, not just locally but globally. Everywhere there is engineering or manufacturing or sales of buses his genius will be remembered."
He added: "When in his presence you knew you were with someone remarkable. He had that X factor that so few possess. But those who have it make a difference to all around. Northern Ireland was so fortunate to have him as a son. His immediate and extended family can take courage in his faith, which was strong. His witness purposeful. At their time of great loss, they know many people across the entire country will be praying for them."
Stormont Economy Minister Gordon Lyons expressed his sadness at Sir William's death, saying: "Sir William was a man of immense standing, not just within Northern Ireland's manufacturing sector but also within the local community. A pioneer and entrepreneur of rare foresight and ability, for which he was deservedly knighted, Sir William took over the family business and moved it into the construction of buses, a process which saw it become the Wright Group, and grow into the success today that is Wrightbus. The legacy that he leaves cannot be overstated and I would like to pass on my deepest condolences to Lady Wright and his family at this difficult time."
From within the industry, Ian Downie, Head of Yutong Bus UK at Pelican Bus and Coach wrote on LinkedIn: "It is with great sadness to hear that William Wright has passed away. I worked for many years with William whilst I was at Volvo Bus, and had the great privilege of working with him at Wrightbus. I spent many an hour discussing the merits of diesel, electric and hydrogen buses in his office in the depths of Ballymena. His energy, knowledge, humour and charisma was always evident. He was a legend in the industry."
Mark Osmer, Head of Fleet & Engineering Procurement for Translink, and Chair of Chartered Institute of Procurement & Supply Northern Ireland, also posted his thoughts on LinkedIn: "It was with great sadness to hear of the passing of Sir William Wright. A visionary of the Bus Industry. The Northern Ireland businessman rose to prominence by transforming his family business into one of the best-known bus manufacturers in the UK. Deepest sympathy to the Wright family."
Jo Bamford purchased the Wrightbus business in 2019, and paid tribute to the vision of Sir William: "Sir William and his father were pioneers, of that there is no doubt. The Wrightbus name is synonymous with everything they stood for and those values – problem-solving, hard work and never giving up – course through the business I run today.
"Sir William was fiercely loyal to this community and the fact his name is still held in such regard is testament to his relentless dedication."
Sir William pioneered aluminium bus framing in the UK in 1976, the first low floor bus in 1992, first modern British-designed and -built battery-electric bus in 1999 and ensured the future of the business by leading the design of the world's first hydrogen fuel cell double decker in 2015.
Wrightbus now employs more than 1,000 people at its factory in Ballymena, Co Antrim. "Everyone here at Wrightbus should never forget how this business started and the sacrifices which were made to ensure it goes from strength to strength in the future, Sir William is an indelible part of this fantastic story," added Jo.
The CBW team wish to convey their deepest sympathy to Lady Wright, the Wright family and the Wrightbus team.