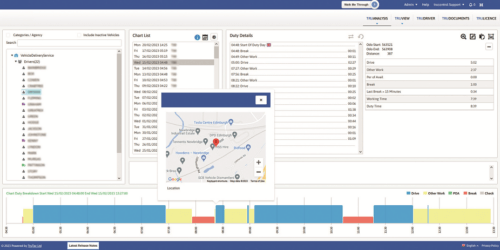 TruTac, along with its parent company Microlise, has released a series of new features across various products, enabling simultaneous product access and smooth data integration. Customers can now view Microlise's tracking system within TruTac's TruControl tachograph analysis and reporting software, enabling users to see their vehicles' location and associated information within the platform, giving them an instant overview of all of their fleet's data in a single place.
Tracking and location information can be viewed on three different pages of the TruControl system: the 'Charts' page, which displays the vehicle's job status, including rest, POA, or 'other work' modes, the Vehicle Maintenance Calendar page, and the Unknown Drivers page, which shows vehicle movements.
For joint customers of Microlise and TruTac, there are no additional charges for the new features, the company said, explaining that to take advantage, joint system users should contact the TruTac support team who will enable the update and provide the necessary training.
Since TruTac was acquired by Microlise, the two companies have been working together since 2020, as TruTac Managing Director Jemma James explained: "We have gone from strength to strength since joining the Microlise Group, so it stands to reason we should offer greater product integration where there is a natural fit to share data and improve the customer experience. It makes absolute sense to merge tracking functions with TruControl because they complement one another. Both are used for analysis, reporting, and compliance."
Jemma added that life is easier for fleet managers when they can see and access multiple functions in one single place and have key data at their fingertips: "They don't have to keep dipping in and out of different software, and the more we can refine the data we present them, the more instantaneous their decisions become."
TruTac's 'one stop shop' for compliance, TruControl, offers real time visibility, asset security and geo security. Data integration between the two systems has been designed to reduce admin time, streamline fleet and driver visibility and enable faster decision making.
Speaking about the new product integrations, Microlise CEO Nadeem Raza said: "As part of the ongoing integration between Microlise and TruTac's products, we are excited to announce the release of new features that complement our comprehensive end-to-end solution.
"Providing greater value for our customers, the smooth data integration and simultaneous product access enables transport operators to view our tracking system within TruTac's TruControl software, providing quick access to key data and saving valuable time on administrative tasks. We are committed to the development of our product portfolio and will continue to enhance our end-to-end software solution over the coming months, to provide even more benefits for our customer base."