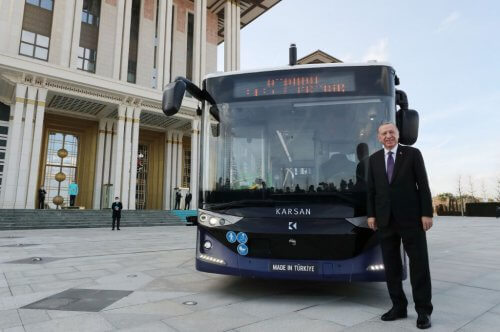 Developed jointly by Karsan and California-based tech company ADASTEC, which specialises in autonomous driving software platforms, the autonomous Atak Electric was declared road-worthy for the roads of Europe and the USA at an event held at the Turkish presidential complex. At the event, Turkish President Recep Tayyip Erdoğan and the Minister of Industry and Technology Mustafa Varank, personally examined and tested the bus.
Following their inspections, President Erdoğan and his entourage took a special tour inside the Level-4 autonomous vehicle.
Okan Baş, CEO of Karsan, said: "Karsan has considerable experience working with electric vehicles. We have been exporting Jest Electric and Atak Electric, both 100% electrically powered vehicles, to Europe and the USA and other parts of the globe for many years now. Our electric vehicles have so far hit the 1 million km milestone in 30 different cities of Europe and the USA. A massive amount of know-how and experience lies behind this achievement.
"However, we are aware that the future is not just about electric vehicles; the next step forward is autonomous vehicle technologies, a major component of the automotive ecosystem. As a matter of fact, we look at our range of electric vehicles as a stepping stone to self-driving ones, which are our primary focus. While there are pilot projects in the field of driverless vehicles for small minibuses of 5 metres, there are no driverless regular-size buses in America and Europe. Today, we are pleased to launch Karsan Autonomous Atak Electric, a pioneering novelty for the 8-metre segment which can be enjoyed by drivers in the American and European markets."