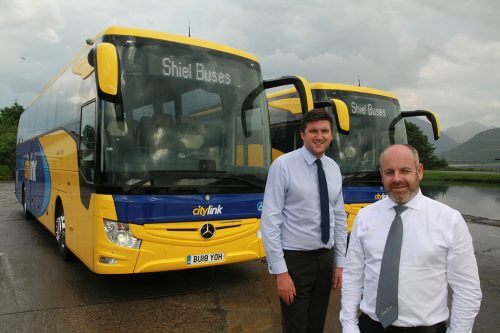 Scottish Citylink has introduced new vehicles for its 915 and 916 services between Glasgow, Fort William and Skye.
Following last year's investment of £1m in a new fleet of coaches for the route, the company has introduced a further two vehicles.
The latest investment means that all vehicles travelling the route are less than 12 months old.
Shiel Buses operates the route for Scottish Citylink, It was recently named as the most scenic route in Scotland and the second most scenic route in the UK by passengers who voted in a Bus Users UK poll last month.
The new 12m Euro VI Mercedes-Benz Tourismo coaches are worth over £500,000.
They feature toilets, air-conditioning, USB charging points and are fully Disability Discrimination Act compliant.
They also come with two additional screens, allowing passengers to map their exact location along the route.
The coaches were introduced to the fleet on June 1, 2018.
Peter Knight, Operations Director at Scottish Citylink, said: "This latest investment means that all of our coaches travelling between Glasgow and Skye are now new, state of the art vehicles that offer the hundreds of passengers that travel with us every week the quality and comfort they deserve.
"The new vehicles come at a great time as we also celebrate the route being named the most scenic across Scotland. We hope our passengers enjoy sitting back and taking in the wonderful views around them."
Donnie and David MacGillivray, Managing Directors of Shiel Buses, said: "We're proud to have invested just over half a million pounds in these state of the art coaches for the Glasgow – Fort William – Skye route.
"They will help to offer an additional layer of comfort to passengers taking this beautiful trip across the West of Scotland."