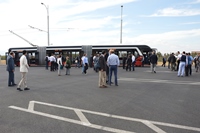 Senior officials from numerous countries came to Malatya, Turkey to see how the trolleybus system was operating
TURKEY The Bozankaya trolleybuses operating in Malatya have been the subject of workshop hosted by the authority and organised by the International Association of Public Transport (UITP). Senior officials from numerous countries and regions including Germany, Saudi Arabia, Latin America and the UK, as well as from municipalities in Turkey participated.
Metropolitan Municipality Mayor of Malatya, Ahmet Çak?r said: "We have carefully scrutinised the trambus (trolleybus) and presented the feasibility reports. As a result, we can say that it is a far more efficient than the feasibility reports (suggested)."
Former General Manager of Austrian Salzburg Trolleybus Company, Gunter Mackinger added: "Trolleybus is not an election investment, but an investment for our children and future."
For his part, General Manager of MOTAS (Transportation Services of Metropolitan Municipality of Malatya) Enver Sedat Tamgac? explained: "We're working to maximise transportation services by making sure that the city's development is balanced with public transport service quality. Existent energy resources will become insufficient and waste away in time. Thus we have decided to actualise the trambus system for sustainable transport. We prepared reports concerning transportation systems. Within these reports by considering the population growth rate of Malatya by years, we have decided that it will never need a metro or light rail system and the most appropriate alternative is trolleybus."
"We carried out work to identifying the most appropriate and economical transport system by taking account the economic means, as well as the population criteria of next years," Ahmet continued. "As a result of these works we have decided that trolleybuses are what we are looking for. During this work the UITP authorities helped and guided us. I appreciate this. Now our vehicles are operating according to surveys, satisfaction rates are over 80%."
Aytunç Günay, Chairman of manufacturer Bozankaya pointed out that his firm was awarded "Company of the Year in Europe" by Frost & Sullivan, one of the biggest research and consultancy groups. He said: "We are the first local trambus, local tram and electric bus manufacturer in Turkey. Gaining such great attention with our locally produced vehicle in the international arena gives our employees special motivation.
"Our new generation vehicles, developed and manufactured by our team consisting entirely of Turkish engineers, offer the optimal solution for public transportation. Our trambuses have gained attention from local administrations both nationally and internationally. Technical committees from Greece, Brazil, Austria and Germany are visiting Turkey to examine our vehicle. We are very proud about the compliments that our vehicles gained during the workshop."