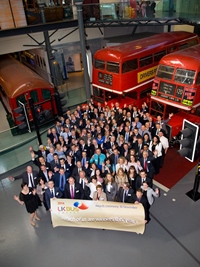 First and Arriva lead the nominations as a record number of finalists are announced
A record number of 96 finalists have been selected from over 400 plus nominations for this year's UK Bus Awards.
The shortlist includes representation from all the major groups, as well as municipal operators with 10 nominations and independent operators with six – while there are 12 from local authorities, PTEs and Combined Authorities.
Topping the list are Arriva and FirstGroup both with 15 nominations each, while Go-Ahead has 11, closely followed by Stagecoach with 10.
Tony Depledge, Chairman of the UK Bus Awards, said: "Yet again, this year's entries embody the vibrant and creative spirit showcased by the UK Bus Awards Scheme and I'm delighted we have another year of strong competition
"The judges have selected a superb range of entries for the final stages of the contest, where rising passenger numbers and satisfaction and ever-imaginative marketing initiatives, focused on listening to customers, have shone out."
"Each and every finalist has winning qualities and I wish them all every success at this year's ceremony in November."
The finalists are as follows:
Awards for People
Chris Moyes Memorial Award for Top National Bus Driver sponsored by Traffilog
Clare Akehurst, First Manchester
Jaison Annear, First West of England
Malcolm Burton, First South Yorkshire
Ian Greenfield, Arriva Midlands
Paul Prosser, National Express West Midlands
Stephen Reed, Stagecoach West Scotland
Les Roome, Nottingham City Transport
Justyna Wawrzycka, Arriva North East
Engineer of the Year in association with IRTE
Tony Cockcroft, Stagecoach Merseyside
Stuart Drummond, First UK Bus (North Region)
Jason Jackson, Ensign Bus
Evran Kiazim, Arriva Southern Counties
Leigh Vardanega, London United Busways
Unsung Heroes Award sponsored by Backhouse Jones
Shayne Howarth, Stagecoach Yorkshire
Chris Icely, Stagecoach Manchester
Brian Reeves, Abellio London & Surrey
Andrew Wright & Neale Murphy, First UK Bus (North Region)
Young Manager of the Year sponsored by CILT UK
Matthew Ashton, Arriva Yorkshire
Nick Faichney, Arriva London
Richard Hoare, Arriva North West and Wales
Rob Hughes, First Group
Stephanie Maher, National Express UK Bus
Technical and Professional Awards
Environment Award sponsored by Volvo Bus
Milton Keynes Electric Bus Project, Arriva Shires & Essex
Carbon Smart Project, First UK Bus (North Region)
Luton Dunstable Busway, Luton Borough Council
Electric Bus Project, Nottingham City Council
The Volvo 7900EH Electric Hybrid Bus, Volvo Bus
Yellow Buses Go Green, West Yorkshire's Combined Authority
Alexander Dennis Innovation Award
Milton Keynes Electric Bus Project, Arriva Shires & Essex
Mobile Tickets for Buses, Barclays Bank
First's Better Journey Card, First West of England
Transport for Edinburgh Official Ticket App, with m-ticketing, Lothian Buses
megabusGold.com, Stagecoach
Delivering a Cash-free Bus Network in London, Transport for London
Local Authority Bus Project of the Year, sponsored by The TAS Partnership
Lewes Road Sustainable Transport Corridor, Brighton & Hove City Council
Luton Dunstable Busway, Luton Borough Council
Beach Bus, New Forest National Park Authority
Portsmouth Park & Ride, Portsmouth City Council
BusTrackerSEStran, SESTran
Making Buses a Better Choice: the Peter Huntley Memorial Award sponsored by Heathrow Airport
Arriva Watford – Perfect 10, Arriva Shires & Essex
simpliCITY Network,First Glasgow
Luton Dunstable Busway, Luton Borough Council
pink shuttle – better for everyone, Reading Buses
zoom – making buses better the quick way, trent barton
Putting Passengers First sponsored by Euro Bus Expo
The Arriva Angels, Arriva Yorkshire
Transforming Bus Travel – Partnership Plus, CENTRO – WMPTA
Investing in our customers, Go North East
Taking Customer Service to the next level, Lothian Buses
Getting Chester back on the bus, Stagecoach Merseyside
'All Aboard!', Transport for London
The Award for Marketing Initiative of the Year sponsored by Passenger Transport magazine
X1/1/1b – people disappearing every 15 minutes, Arriva North East
Student Campaign, First UK Bus (North Region)
Fairer Fares, Bristol Fare Consultation, First West of England
Nightbus Home safe. Midnight to 4.30am, Lothian Buses
Skegness Seasiders, Stagecoach East Midlands
Freeride Sunday, trent barton
The Award for Sustained Marketing Excellence sponsored by Exterion Media
Business to Business – Go Growth!, Arriva Yorkshire
Arriva Social Media – Never Miss the Buzz, Arriva UK Bus
First Manchester – Growth Strategy, First UK Bus (North Region)
Marketing for Growth, Go North East
listen, innovate, improve – the evolution of Reading Buses, Reading Buses
Operating Awards
Top City Operator sponsored by INIT Innovations
Arriva Merseyside
Go North East
National Express West Midlands
Nottingham City Transport
Stagecoach Manchester
Stagecoach North East
Top Independent Operator sponsored by Scania
Compass Travel
Ensignbus
Ipswich Buses
Prentice Coaches
Courtney Buses
Top Shire Operator sponsored by Ticketer
First York
Metrobus
morebus
Reading Buses
Travel de Courcey
Note: The winners of the Top Shire, Top City and Top Independent Operator Awards will go forward to the contest for the award for Top UK Bus Operator of the Year, sponsored by A J Gallagher and QBE Insurance
Top National Bus Depot sponsored by Personal Group
Balfron, First Scotland East
Blyth, Arriva North East
Crawley, Metrobus
Gotham, Nottingham City Transport
Newport, Southern Vectis
Rotherham, First South Yorkshire
London Awards
Top London Bus Garage of the Year sponsored by Transport for London
Battersea, Abellio London & Surrey
Hounslow Heath, London United
Kings Cross, Metroline Travel
Potters Bar, Metroline Travel
Romford, Stagecoach London
Sutton, Go Ahead London
Luke Rees-Pulley Charitable Trust Award for Top London Bus Driver sponsored by Transport for London
Alex Burrows – Bexleyheath, Go-Ahead Group
Richard Emerton – Fulwell, London United Busways
Natasha Lambert – Merton, Go-Ahead Group
Chola Mitchell – Croydon, Metrobus
Damien Nota – Battersea, Abellio London & Surrey
Andrew Phillip – Battersea, Abellio London & Surrey
Mohammed Shabir – Ash Grove, HCT Group
Trevor Stotten, Epsom Buses