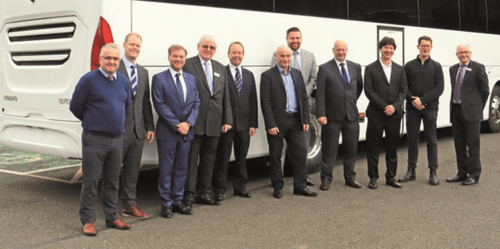 The UK Coach Operators Association (UKCOA) reports that the 2023 Annual Dinner, AGM and Conference in Warwick was a great success. Delegates enjoyed socialising and networking combined with a conference agenda that they said was useful for their business. The event started with a dinner at the Chesford Grange Hotel on Sunday 12 March, offering a time for networking and catching up with industry friends and colleagues old and new. Volvo hosted the conference at its Warwick offices the following day.
Over 50 people attended, and as well as members and industry partners, the UKCOA said it was delighted to welcome a number of guests to the conference. Delegates were welcomed by UKCOA President Stephen Telling, and Volvo Managing Director Domenico Bondi gave an opening speech. Topics discussed included PSVAR, the route to zero emissions, Earned Recognition and regulatory updates.
A key feature of the Conference was providing delegates with the opportunity to have their questions answered via a question and answer session with a panel made up of the guest speakers and chaired by UKCOA's newly elected Chair Anthony Marett of Marett's Chariots. The subject of tachographs was reported to be a hot topic, and so the UKCOA is planning a separate event dedicated to this later in the year.