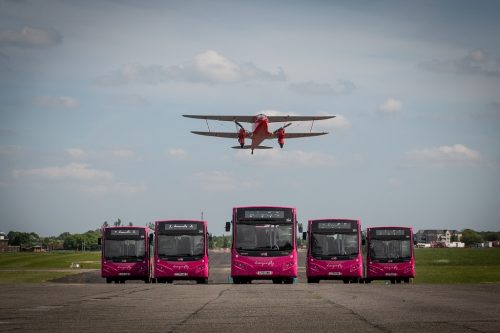 Vehicles given Dragonfly brand to reflect Hatfield's aviation heritage
Volvo Bus and Uno Buses have launched a fleet of new MCV eVoRa-bodied Volvo B8RLE 'Dragonfly' buses.
The new buses came face to face with their namesake, the 1937 de Havilland Dragonfly biplane, at North Weald Airfield. The aircraft is the only flyable Dragonfly left in the UK.
The six new vehicles have seen an investment of more than £1m by Hatfield-based Uno Buses, a company owned by the University of Hertfordshire.
Uno branded the buses Dragonfly to commemorate the rich heritage in aviation engineering at Hatfield.
Volvo said the launch represents the first time this model of bus will be entering service in the UK.
The buses will operate on the 610 route serving Enfield, Cockfosters, Potters Bar, Hatfield, Harpenden and Luton, with audio-visual announcements, free WiFi and USB chargers at every seat.
Jim Thorpe, Managing Director for Uno Bus, said: "We are excited to be the first operator to deploy the new MCV eVoRa-bodied buses in the UK on our Dragonfly route. At the beginning of the year we went through a formal tendering process in which Volvo came out on top when it came to the size, capacity and appeal.
"This investment demonstrates our continued commitment to further improving the customer experience for our passengers, both in the wider community and those studying at the University of Hertfordshire.
"To be able to bring Uno's Dragonfly buses together with the de Havilland bi-plane was a real honour, as we are all so proud of our aviation history at the University of Hertfordshire."
Retail Bus & Coach Sales Manager for Volvo Bus, Richard Mann, added: "Uno Bus was seeking a vehicle that would cater for the needs of passengers on the very busy Dragonfly route. It's great to know that with this in mind, they selected the Volvo B8RLE with the new eVoRa bodywork.
"Uno Bus has considered the needs of their passengers throughout the entire process. It wanted specific features such as the sofa area, free WiFi and USB charging points, the latter of which is essential for students who are using the service when travelling to and from university."