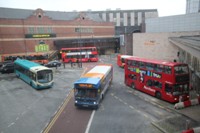 Members of the North East Combined Authority reject operators' partnership proposal and vote for franchising. Gareth Evans reports
In a move which could signal the biggest changes to the way buses operate across Tyne & Wear since de-regulation in 1986, members of the North East Combined Authority (NECA)  voted unanimously last Tuesday (October 21) to submit proposals for the introduction of a Quality Contracts Scheme (QCS) for consideration by the special QCS Board.
The three-strong panel, convened by a Traffic Commissioner, will form its own opinion over whether the Public Interest Criteria have been met, and whether the correct process has been followed in developing the QCS. Subject to a favourable opinion by the QCS Board, the NECA could then consider whether to formally introduce the QCS and begin procurement for operators of QCS services. If agreed, the aim would be to introduce the QCS by April 2017.
Tyne & Wear is the first part of the UK to reach this stage in developing a QCS under powers introduced in the Transport Act 2000 and 2008. The new scheme would see bus operator contracted to provide routes by PTE Nexus on behalf of the NECA, rather than the current system of the bus operators deciding which services to run on the basis of market forces. Local authorities currently use their powers to supplement the network by subsidising routes which would not be commercially viable for bus operators. Under the QCS, operators would provide services on a range of routes to a contractually agreed price.
The QCS would apply to Tyne & Wear and to services which cross into Northumberland and County Durham. Council leaders also agreed a protocol to avoid any adverse impacts on other services in Northumberland and County Durham.
NECA members rejected the alternative to the QCS – the Voluntary Partnership Agreement – proposed by the North East Bus Operators Association (NEBOA). This would seen bus firms working together with the NECA to provide a co-ordinated service under a formal voluntary agreement.
REACTIONS
Cllr Nick Forbes, (Leader of Newcastle City Council and) Regional Transport Lead for the North East Combined Authority
"After a lengthy and careful consideration of the QCS proposal, and the Voluntary Partnership Agreement, the Leadership Board felt that the QCS to be in the best interests of bus users in the region.
"It presents the best option for increasing passenger numbers, protecting important but less profitable routes, preserving concessionary fares and providing a clear and easier to use bus network for passengers. We believe it's a very sound proposal and we await the decision of the independent QC Board with great interest.
"We realise that the bus companies will find this decision disappointing. However, leaders took their decision balancing the wider public interest and concluded that the voluntary arrangements proposed by the bus companies could simply not deliver our ambitions for better bus services. We were also clear that, without action, bus use would continue to decline, and the pressures on public funding would simply become unsustainable."
Kevin Carr, Chairman, North East Bus Operators Association
"We are very disappointed, but not surprised, at the decision to press on with the QCS. Nexus has convinced the leaders to take a huge gamble, needing an £80m contingency fund on top of £51m in guaranteed funding every year. It's not the best way of securing vital bus services for communities in Tyne and Wear.
"This is the third set of bus contracts proposals and every one has been riddled with mistakes and financial flaws. The latest Nexus proposals don't offer a single extra bus or any expansion of the bus network. Bus passengers in Tyne and Wear deserve better than this scheme, which will lead to higher fares, worse bus services and higher council tax bills.
"In contrast, bus operators have made a clear offer to work constructively with the authority and local councils. We have promised to deliver smart ticketing, lower fares, more buses, a greater say for local people in their bus network, as well as saving money for local taxpayers. We stand by that offer. The fact that we are already delivering many elements of it shows how committed we are to putting passengers first."
Mr Carr added: "The NECA decision is not final. We expect a far more rigorous examination of the QCS proposals by the independent review board. The QCS Board has a duty to determine whether these plans meet key legal, economic and value for money tests. We do not believe these tests have been met and we will make robust arguments to the review board to demonstrate this. Unless all of the tests have been met, the QCS as it stands cannot be implemented.
"In any case, there is no evidence that the current system of delivering bus services has failed the North East. On the contrary, it has one of the highest levels of bus use and customer satisfaction in the country. Our plans would make the bus network even stronger."
Giles Fearnley, Managing Director of First UK Bus
"What is happening is very disappointing, particularly given that the bus network in Tyne & Wear is thriving. Passengers tell us that with record satisfaction levels. I believe that if the Combined Authority (CA) were to grab all that is on offer from the operators in a partnership setting, there would be many immediate benefits to bus passengers, the communities served and the region's economy."
He added: "In West Yorkshire, I believe CA members know that their issues are, in many respects, different to those which Nexus are looking to address. For example, significant savings have been made to the authority's tendered service budget by operators extending and adapting their commercial networks. The partnership proposals would enable us all to build strongly on the recent successes of increased ridership and passenger satisfaction, further meeting the aspirations of politicians and the public alike."
 Bobby Morton, Unite National Officer for Passenger Transport
"Unite welcomes NECA's decision as it will mean that the bus operators in their current unregulated state won't be able to cut routes and channel profits out of the region to their profit hungry shareholders.
"For too long a deregulated bus system has failed to deliver for passengers and bus workers."
Bridget Phillipson MP (Houghton and Sunderland South, Labour)
"I am delighted the CA have voted to introduce England's first regulated transport system outside of London since the Thatcher government deregulated bus services in 1986. The bus operators should now respect this democratic decision and work to support passengers.
"Bus companies have bitterly opposed the plans. Stagecoach's Brian Souter claims that those of us who want a better local bus service are 'unreconstructed Stalinists.' He threatened to pull out of the region altogether. Yet Stagecoach are happy to run services under London's regulated system and there's no good reason why they couldn't do the same in Tyne and Wear. This is typical of the bluster and the negative campaign of scaremongering that has characterised their opposition to change. They have frequently threatened legal action in the hope they could bully the councillors making the decision into giving in. Their threats have so far failed, but they haven't gone away. It's time the operators respected this democratic decision and contemplated why it is so many people are dissatisfied and angry.
"I first began to campaign on this issue in 2010 when local parents asked for my help in trying protect a route that had served the community for decades but was about to be cut, making it difficult for their children to get to school. Despite the fact operators receive over 40% of their income from the taxpayer, local people had little to no say. The operator made clear that although we could raise our concerns, they were under no legal obligation to even consult on changes.
"That was the start of my campaign to re-regulate bus services in Tyne and Wear and this week we moved one step closer to making this happen."
Mary Creagh MP (Wakefield, Labour) and Shadow Secretary of State for Transport
"It's great to hear the members of the NECA have voted unanimously to franchise their bus service. They have my full support."
pteg
"The partnership offer, while offering some passenger improvements and potential savings, does not come close to the benefits delivered by the QCS. Whilst partnership boards would undoubtedly improve the dialogue between local councils and bus operators, the final decision on routes, timetables and fares would remain firmly in the hands of the bus operators. This creates significant doubt over whether the improvements and savings would be achieved in practice.
"Bus firms could force renegotiation of the partnership should the government reduce its funding for concessionary travel for older people, or their Bus Service Operator Grant, be cut.
"The offer does not restrict the level of future fare rises, does not offer an area-wide smartcard, and offers only limited improvements on tickets usable between different companies.
"Nexus would still have to cut all of the bus services and local reduced-fare schemes it provides if this partnership offer was accepted. Nexus provided a 700-page document informed by expert modelling, legal and financial opinion in support of its own view that these tests have been met."
.