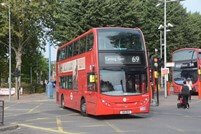 Bank Holiday services allowed to continue as normal after a 24 hour strike the previous Friday
Following a 24-hour strike by Tower Transit workers in London on Friday, August 26, a second strike due to take place on Monday, August 29 was cancelled by Unite the Union.
The union claimed that there was solid support for the action, with services severely disrupted. The dispute is over the imposition of roster changes and what the union is calling a 'failure by an increasingly hard line management to commit to constructive industrial relations.'
Unite said it had suspended a second 24-hour stoppage on Bank Holiday Monday as a gesture of goodwill to give the company the opportunity to fully respond to issues at the heart of the dispute.
Over 1,000 drivers, engineers and controllers at the Atlas Road bus depot in Park Royal, the Westbourne Park bus garage and the Lea interchange bus depot are involved in the dispute. Advising passengers ahead of the action, Transport for London (TfL) said around 32% of normal bus services were operating on affected routes, with some services offering a shortened service.
TfL called for Unite and Tower Transit to swiftly resolve the dispute so that passengers are not disrupted.
Unite Regional Officer, Simon McCartney, said: "Tower Transit cannot hide from the strength of feeling demonstrated by today's solidly supported strike.
"Members across the three depots have sent a clear message that they want constructive and genuine consultation and won't be left short changed by imposed changes to rosters.
"A second 24-hour stoppage was scheduled to take place on Bank Holiday Monday, but the consensus on all picket lines today was that with such a solid support for today's strike, we should give the company time to reflect and respond fully to all of the issues at the heart of the dispute."