50 drivers, engineers and operations employees at Hatfieldbased bus operator Uno are feeling healthier and happier thanks to the University of Hertfordshire.
After taking part in a university initiative to get fit and healthy, many of the employees have changed their eating habits and increased their activity levels, leading to dramatic reductions in blood pressure and cholesterol.
The programme saw participants taking part in individual and team challenges designed to encourage regular exercise and commitment to healthy eating plans, prescribed by fitness experts and dietetic graduates from the University. An accelerometer called an Actiped measured levels of activity by recording distance travelled, steps taken and estimated the number of calories burned.
At the beginning of the project each participant completed a fitness, health and diet assessment with a health and fitness coach. Many of the drivers were found to have dangerously high blood pressure and high cholesterol levels. After recent retesting, results showed 63% of participants had achieved a decrease in blood pressure, 44% a reduction in cholesterol, 47% a reduction in resting heart rate while 63% reported increased energy levels.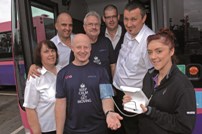 Stan Sawdy, operations manager at Uno, said: "I've lost 3-4 inches off my waist and my blood pressure has come down. I had a tendency to go home and sit down but now I like to go out walking and my daughter has even joined in."