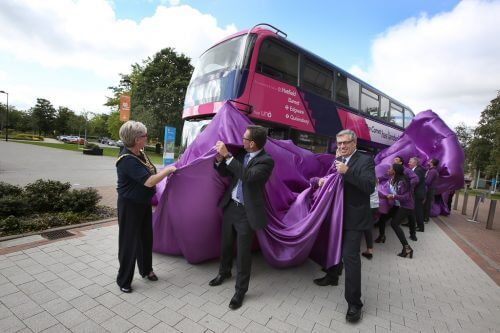 The £1.3m investment in six ADL Enviro400 Citys has now gone live, with the vehicles operating to a 30-minute frequency
Uno Buses, owned by the University of Hertfordshire in Hatfield, has launched six new Alexander Dennis (ADL) Enviro400 City double-decker buses, with one unveiled at the university's main reception by Mayor of Welwyn Hatfield, Cllr Lynne Sparks on Friday, September 15.
The new buses will run on the operator's 614/644 services, which form part of The Comet route. The route shares its name with the Comet jetliner – the first commercial jetliner – which was built by the De Havilland Aircraft Company at their site at Hatfield Aerodrome. This is reflected on-board with a De Havilland Comet motif at the base of the stairs.
The buses are equipped with USB charge points at every seat, free WiFi, ambient interiors providing spacious and comfortable seating. They are also fitted with enhanced emissions equipment, giving them exceptional green credentials.
Uno Buses' Managing Director, Jim Thorpe, said: "The whole company is looking forward to launching this £1.3m investment. We've put a lot of thought into how we enhance the overall customer experience, and one of the most important aspects is the on-board environment. We've tried to maintain a spacious feel with bright, light interiors. Of course, it's also key these vehicles provide the very best facilities for keeping people connected and powered up on their travels, so we've introduced the USB charge points at every seat and free WiFi.
"In addition to the bus product, we've put a lot of effort into engaging all employees in delivering a refreshed customer focus. We realise that passenger expectations are high, and we want to do all we can to meet them, and exceed them. The Comet is just the beginning for us, we are excited to be welcoming further investment into the fleet and overall business in 2018, and we will be expanding on, and developing these innovations."
The Comet buses will run up to every 30 minutes between, The Campus, Hatfield, Barnet, Edgware and Queensbury on the 614/644 route. They entered service on Monday, September 18.