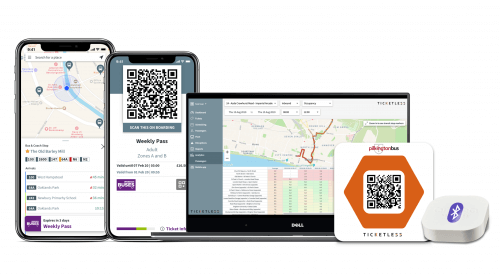 London-based technology company UrbanThings, which provides cities, local authorities and passenger transport operators with a smart mobility platform for mobile ticketing and reservations, live vehicle tracking and rich passenger analytics, has introduced a brand new coupons feature as part of its 'smart recovery' promotion to help transport providers increase ridership as lockdown eases.
The feature launch has been timed to coincide with bus service levels returning to 100% in many areas across the UK, following the easing of government restrictions. Transport providers, including cities and operators, will now be able to use the platform to offer discounted rates to passengers, with single or multi-use coupon options, to incentivise regular public transport use.
Carl Partridge, CEO of UrbanThings, said: "Ticket revenue may well be at a premium over the coming months, so making every drop of it count is absolutely paramount. Through our new coupons feature, users can encourage passengers to keep on returning.
"Digital coupons are well worth embracing, firstly as a marketing tool to incentivise new travel habits. Secondly, for refunds: once you have that coupon ecosystem, you're protecting your revenue by keeping it within that ecosystem. We're confident that public transport ridership will return to pre-pandemic levels, but we're doing our utmost to support transport providers in the meantime."
The coupons feature has been launched as part of UrbanThings' 'smart recovery' promotion, which offers local authorities and transport operators three months' free access to the UrbanThings platform. The promotion aims to help transport providers boost digital services for passengers, streamline operations and provide safe, socially-distanced travel. See urbanthings.co/urbanthings-smart-recovery-promotion/ for more details.