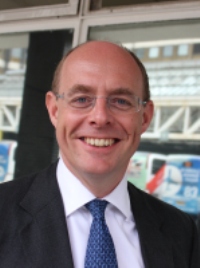 "Aggressive" US hedge fund made the move following a failed campaign to insert its representatives at board level
Elliott Advisors, the activist so- called 'ethical' American hedge fund, has sold half its stake in National Express Group for around £110m following a failed attempt to insert three of its advisors to the group board.
The move to put three of its own representatives on the board would have forced the company into a merger.
Just over 50m shares were placed at about 215p after the market closed, handled by Bank of America Merrill Lynch. Prior to the stock sale, National Express shares had closed at 230p, up 4.9.
While Elliott said it would retain an equivalent stake of about 9.9% in the company, the share sale greatly reduces the activist investor's influence.
National Express shares fell 10% when markets opened on Thursday. Elliott is known for its aggressive stake-building in companies and built up its holding in National Express in 2011, becoming the group's largest shareholder ahead of Spain's Cosmen family.
It agitated for strategic change, calling for a break up of the group, the sale of its US business or a merger. It also pushed for a tie-up with Stagecoach.
Ahead of the company's AGM in May 2011, Elliott also called for the appointment of three non– executives of its choosing and the ousting of an existing one, Roger Devlin.
The moves were seen by analysts as an attempt to flush out a potential bidder for National Express and enable Elliott to exit at a profit. Its initial stake building was at 180p a share. The Elliott executive behind the strategy, Dominik Dolenec, has since reportedly left the company.
National Express CEO Dean Finch was said to be "infuriated" with Elliott's actions. He said: "I've told them they are going to lose."
In a peace deal days before the AGM in May 2011, he agreed to the appointment of one of Elliott's candidates, Chris Muntwyler, though only after he had been vetted by the board. In return, Elliott agreed to drop its change campaign for a year.
In a statement the hedge fund said the sale was to "diversify its portfolio and invest in new opportunities". It added it was a "strong believer" in National Express ' "management team and its strategy".
Elliott has undertaken not to sell any more National Express shares for 90 days.