On Monday 6 August Daimler Buses announced an agreement to supply 48 Mercedes-Benz eCitaro electric buses to Hanover public transport provider ÜSTRA.
The order is for 30 rigid and 18 articulated eCitaro G buses.
The first four will be delivered this year.
At the signing of the agreement Ulrich Bastert, Head of Marketing, Sales and Customer Services at Daimler Buses, said: "ÜSTRA is rapidly working towards achieving emission-free mobility.
"We are proud that the eCitaro will be such an important component of their electric bus campaign," Denise Hain, Member of the ÜSTRA Board of Management for Operations and Personnel explained.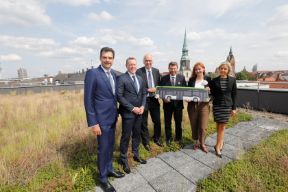 "In Daimler, we are pleased to have found an experienced manufacturer of electric buses, which, by delivering 48 eCitaro buses, will be the basis of our ambitious aim to completely electrify Hanover's public transport by 2023."
The vehicles will be equipped with 10 high voltage battery packs with a total capacity of 243 kWh, and feature a roof-mounted pantograph for charging at terminus points.
They will be fitted with Mercedes-Benz safety systems such as Preventative Brake Assist and Sideguard Assist, which warns the driver of pedestrians or cyclists alongside when the vehicle is turning.
This investment represents the next stage in a long relationship with Mercedes-Benz, including the uniquely-bodied diesel Citaros delivered for the city's Expo 2000 world fair, which remained an unmistakable part of the city's transport infrastructure until 2016.
Meanwhile, Daimler Buses has equipped its Mannheim bus plant with a new charging facility for its fully electric eCitaro.
With charging equipment installed at high level above the charging lanes, the facility is equipped to charge via cable, pantograph or charging rail, and can also be used to evaluate new charging equipment.
Mounting the equipment above roof level not only saves space, but guards against accidents between manoeuvring vehicles and the charging technology.
Read more news here: cbwmagazine.com/category/news