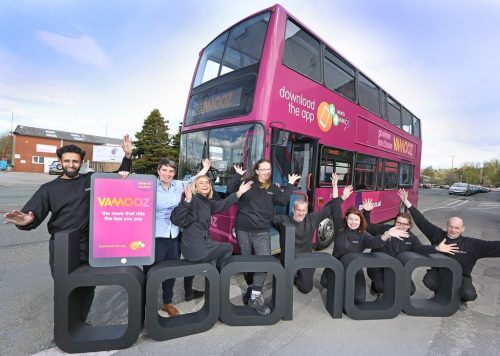 Online retailer and VAMOOZ crowdfund new home to work services following opening of new warehouse
VAMOOZ by Transdev Blazefield has linked up with Burnley-based boohoo.com to crowdfund new home to work services.
The online retailer looked at introducing a bus service for staff following the opening of a new warehouse and consequent recruitment drive.
VAMOOZ already runs home-to-school services as well as trips to sports fixtures and other events and destinations.
As more people sign up to use them, the cost of their regular ticket falls because of the way the service operates.
Mike Suban, Head of HR at boohoo.com, said: "Boohoo is already one of the largest employers in the Burnley area and our business continues to go from strength to strength.
"We have developed a Travel Plan which aims to encourage travel by more sustainable modes of transport, thereby reducing reliance on private vehicles and, specifically, single occupancy trips.
"Partnering with VAMOOZ to create new bus services that will provide cost-effective travel for current and future colleagues makes perfect sense to help facilitate the sustainable development of our Burnley Operations Centre.
"It's a great message for us to give to our staff – with the crowdfunding approach, the more people that use the new services, the cheaper they will be for everyone.
"The way the service has been tailored to our shift patterns and to where our staff live is fantastic and we know that through VAMOOZ we can regularly review if the services are meeting our needs."
VAMOOZ Manager Rebecca Reeve-Burnett added: "The crowdfunding and demand-driven principles we apply to our work with schools and events are now being applied to businesses and staff travel.
"It's great to be working with a forward-thinking company like boohoo on this venture.
"For ourselves at Transdev, for our existing partner operators and for new partners joining us to run VAMOOZ trips, this is another element to the portfolio that is opening up even more opportunities."