First Manchester's Vantage Busway service, which runs between Ellenbrook and Manchester, is to benefit from additional buses from September, providing additional seats for rush hour commuters.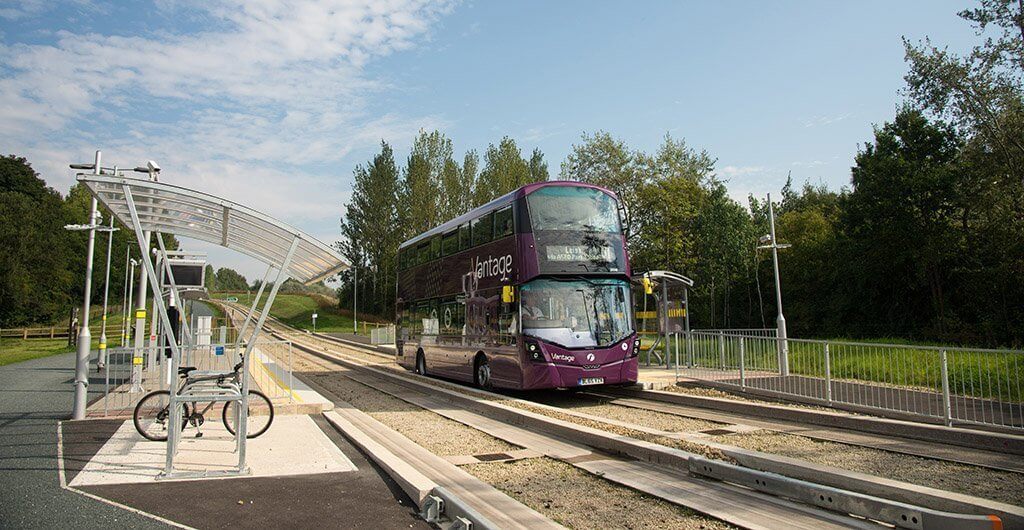 According to the operator, the 4.5-mile guideway service is becoming more popular by the week, with a 13% increase in ridership over the last three months – an average of 54,000 people using the service each week.
The additional journeys will operate between Ellenbrook and Manchester; services will leave at 0659, 0706, 0715 and 0744hrs, and an additional service from Wardley Park & Ride to Manchester at will depart at 0809hrs.
Two other journeys on the V1/V2 will also be extended to the Manchester Royal Infirmary. Some of the extra journeys will be operated by a 'standard' vehicle; these will be highlighted in the timetable as number V4.
This news follows the results of a survey of First Manchester busway customers, which revealed an overall satisfaction level of 92%.
Ian Humphreys, Managing Director for First Manchester, said of the news: "A clear message from customers has been a call for more seats to be made available during the morning peak, and I'm therefore pleased to announce that from September we will be adding extra trips to the timetable, under the new V4 service.
"In addition to today's announcement, First Manchester is continuing to support the Vantage service by creating a video to demonstrate the accessibility of the bus for customers with disabilities.
"Customers can experience an interactive virtual tour of the bus and bus stops along the route, as well as see what to expect when boarding and travelling on Vantage buses. The video aims to make travelling easier and reduce anxiety for new customers."
Councillor Roger Jones, Chair of the Bus Network and Transport for Greater Manchester Services Sub-Committee, added: "Following on from the provision of two extra morning peak services in April this year, the demand for even further capacity is a clear indication of the continued success of the Vantage bus services.
"These extra buses are great news for passengers and will hopefully encourage even more people to join the 54,000 passengers already using Vantage every week.
"If more people are encouraged to leave their cars at home and use our transport networks – and have a good experience doing so – then we can really help to improve air quality and, in turn, people's health."