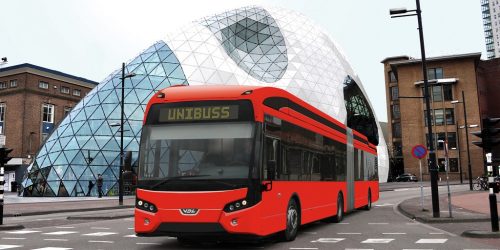 NORWAY Unibuss AS has placed an order with VDL Bus & Coach for 30 Citea SLFA-180 Electrics and 10 Citea SLF-120 Electrics that will serve the Greater Oslo Region.
The first will be delivered to Unibuss at the end of 2018 with all due in service by spring 2019.
Alex de Jong, Business Manager Public Transport VDL Bus & Coach said: "As experienced transition partner and European market leader in the area of e-mobility, we are pleased to now be entering the Norwegian market.
"Norway is taking big steps and leading the way in Scandinavia when it comes to the transition to zero emission public transport.
"We at VDL Bus & Coach are proud that with this prestigious order we are contributing to Oslo's standing as European Green Capital of 2019."
"Oslo is the European Green Capital for 2019, and as a public transportation company we have a huge responsibility to make our city even more environmentally friendly," said Øystein Svendsen, CEO of Unibuss.
"These 40 electric buses take us a large step in the direction of an even greener capital putting the people first. We are pleased to have such an experienced transition partner and supplier as VDL Bus & Coach by our side in this transformation."
Unibuss AS is part of Unibuss Group, which also includes Unibuss Ekspress AS and Unibuss Tur AS. Unibuss AS is also the largest subsidiary of Sporveien AS, Oslo's municipal transport company.
Unibuss AS is responsible for 51% of the bus services in the city and carries over 98m passengers annually. Unibuss Group operates 204 routes with 750 buses and employs more than 1,800 people.
The 30 Citea SLFA-180 Electrics with 169kWh battery packs will operate on routes 20, 21, 28, 34, 37 and 54 in the centre of Oslo.
The Citea SLF-120 Electrics with 127 kWh battery packs, will run on route 74 between Mortensrud in the South and Vika in the city centre of Oslo.