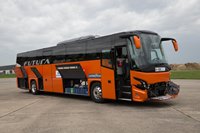 VDL coach was judged by a number of experts and subjected to a range of tests
HOLLAND The focus of the 2015 International Bus & Coach Competition (IBC) was the intercity coach. A number of experts in the field subjected the participating coaches to a battery of tests conducted over five days at the beginning of May 2015.
The VDL Futura FMD2 was the winner for most cost-effective coach. The lightweight concept in combination with the aerodynamic design and the optimal driveline resulted in the lowest fuel consumption. Also impressive was its high passenger capacity, lots of luggage space and low cost per kilometre.
"We see winning the IBC Economy Award as confirmation that we are successfully making good on our promise to provide 'Profit of Ownership', one of our core brand values. We are very proud of this," said Rémi Henkemans, Managing Director VDL Bus & Coach. The IBC Economy Award will be presented during Busworld 2015.
The tested coach was a VDL Futura FMD2-129 with a length of 12.9 metres, fitted with seating for 49+1+1. The kerb weight of this FMD2-129, including wheelchair lift and 660 litres of diesel, is 13,300 kg. In combination with the DAF MX-11 engine, this results in low fuel consumption. The optimally balanced powertrain also offers stable, superb road handling on straight roads and in curves. High marks were also given for the logically arranged dashboard and the good driver visibility. The lower entry, which facilitates quick passenger boarding and alighting, comfort and legroom also scored well.
The vehicle's wide centre door, available as an option, can be equipped with a cassette lift to enable disabled passengers to safely enter and exit the coach. Like the FHD2, the FMD2 has a flat floor without any raised areas. This construction provides the passengers with a spacious interior without obstacles. The flat floor saves weight and a floor without corners and edges is easier to clean and keep clean.
The driver enjoys the same dashboard found in the Futura FHD2, which is designed to offer the optimal combination of ergonomics, safety, organization and efficiency combined with an automotive design.