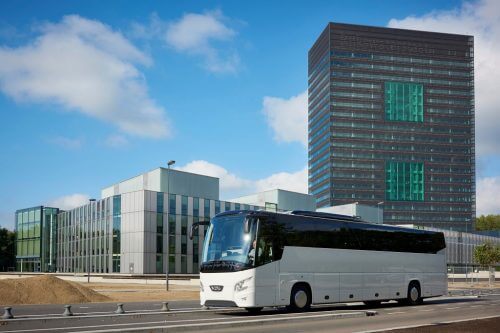 VDL Bus & Coach has expanded its popular Futura range with a new length version, the FHD2-135 – which measures 13.5m long on two axles.
According to the Dutch manufacturer, a key advantage of this variant is the huge luggage space of over 12 cubic metres and the maximum seating arrangement of 63+1+1 – which it claims is unique on two axles. Besides the FHD2-135, VDL also offers the FMD2 in the 13.5m length.
VDL said: "This new Futura length version is also ideally suited for long-distance intercity transport.
"Due to a recent relaxation of regulatory restrictions, the maximum length of a two-axle vehicle is now 13.5m. Thanks to a sharp steering angle of 60 degrees, the FHD2-135 is very agile and easy to manoeuvre. It has a turning circle of 23,480mm."
In terms of power, the FHD2-135 comes standard with a DAF MX-11 271 (271 kW/ 370 hp) engine – although the DAF MX-11 320 (320 kW – 440 hp) is an option.
Asked whether the new variant will be coming to the UK, Karl Moseley told CBW: "No firm decision has been made yet. Discussions are due to be held with VDL in the coming weeks.
"It's been another solid year for sales of VDL products. This has been helped by six FDD double-deckers to date."