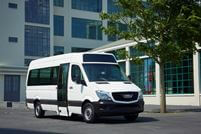 GERMANY VDL Bus & Coach will premiere three new products at IAA, Hanover. The 10.6m VDL Futura FHD2-106 is the latest member of the Futura family. Targeted at the VIP segment, the midi coach can accommodate 34 passengers and will be shown with a face-to-face seating configuration.
Of the new Citea LLE length variants introduced in May, the 9.9m version will also be presented to the public for the first time. Designated the LLE-99, it has been designed for serving sparsely populated areas and for scheduled services with clear peak and off-peak times.
The VDL MidBasic Electric minibus based on a 3.5-tonne Mercedes-Benz Sprinter is the third vehicle to be displayed. VDL replaces the diesel drive with a fully electric one developed in cooperation with Kreisel and using components from various European suppliers. The electric motors have power ratings of 120 to 150kW. At 4.6 kg/kWh, the patented liquid cooled Kreisel batteries are lightweight, and have a capacity of 72 kWh or optionally 92 kWh. A 200 to 300km range is possible. An innovative kinetic energy recovery system (KERS – Kinectic Energy Recovery System) eliminates the need for a retarder, considerably reducing the need for brake system maintenance.
VDL Bus & Coach will also be showing the VDL Futura FDD2-141, a 14.1-metre-long double-decker with seating for 83. A 59-seat Futura FMD2-135 will be outside the exhibition halls as will be a MidCity and a MidEuro. The MidCity is designed as a service bus with 19 seats, a maximum of eight standing places and one wheelchair space while the luxurious-specification MidEuro has seating for 16.