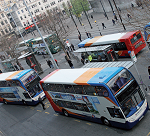 Operations disrupted and vehicles destroyed in rioting
Three vehicles were destroyed and others extensively damaged following rioting in London before disorder spread across cities in the Midlands and the north west of England, severely affecting operators.
Rioting in Tottenham on Monday evening (August 8 ) spread to other areas of London and by Tuesday night (August 9) was causing disruption and damage to vehicles in urban areas across England.
In Tottenham, an Arriva DAF ALX400 double decker was set alight and completely destroyed and as rioting spread to other areas, services such as First's Hackney Central D6 were attacked by rioters, causing extensive damage.
Stuart Butcher for First in London told CBW this was typical of the only "minor window and windscreen damage" caused to "a number" of its vehicles.
During the height of the trouble, three First buses briefly used an Arriva depot for safety reasons whilst senior management and TfL kept in constant contact.
Arriva, as the primary operator in affected north London areas suffered damage to thirteen vehicles. In Croydon, an Arriva service had a near full double decker attacked, but the driver managed to drive away safely.
Bob Scowen, Arriva London managing director said: "A large number of our services were severely disrupted in and around the areas affected by the disturbances."
Go Ahead said 19 of its vehicles were damaged including single deck, double deck and artics in the capital mainly with smashed windows, whilst its London Central Wright Gemini 2 bodied Volvo was severely damaged in Peckham by an arson attack.
A Go Ahead statement said: "Our control staff mitigated the threat of assault on our drivers and damage to our vehicles by diverting buses away from known areas of conflict although this was complicated by the quickly changing situation.
"However, should similar situations occur again, in order to maintain bus services we have asked TfL and other agencies to give priority to bus services which become trapped, and that routes which could be entering problem areas be curtailed and diverted away."
In Ealing reports suggested a driver was forced out of a London General Volvo operating the N11 route by 15 teenagers, who proceeded to drive the vehicle into a lamppost.
Rioting and looting then spread to urban areas in other parts of England, namely Birmingham, Manchester, Liverpool, Bristol and Nottingham on Tuesday night (August 9).
Birmingham's Digbeth Coach Station was closed after a van was set on fire and coaches and buses were advised by police not to enter the city centre.
Police cordoned off Manchester city centre to buses as rioting began in Salford, leaving operators to divert services avoiding the main Piccadilly Gardens interchange.
Transdev Lancashire cancelled all Manchester bound X43 and X41 buses and terminated them in Prestwich. Two side windows were smashed on a Transdev Volvo B7 Plaxton President in central Manchester. The driver and all passengers escaped unhurt.
However, Nikki Girvan, of Stagecoach Manchester told CBW the company suffered no injuries or vehicle damage.
Chris Bowles, managing director of Stagecoach Manchester, added: "Our services were quieter than usual on the Wednesday following the riots, but they made no serious impact on the business."
Many operators told CBW although passenger numbers were smaller on the following Wednesday due fear of a recurrence of attacks in London, Manchester and Birmingham, business was not adversely affected.
A "handful" of First's early morning services disrupted in Bristol as vehicles were diverted from affected areas in the city.
Karen Baxter, communications manager for First's operations in affected areas of the Midlands and Bristol, said: "Services in our region were only disrupted on police advice, and had low passenger numbers.
"There were no problems in Leicester and with our other rural services. Media hype made the situation seem much worse than it was in areas like States Cross in Bristol. However, Birmingham was on a par with London."
The First Midlands 144 service to Birmingham city centre had to stop on the inner city ring road along with other operator vehicles as police took the precaution to avoid any violence.
The attacks upon TfL buses were particularly publicised across the media during the week, and in a letter to the traffic commissioner, Prime Minister David Cameron paid tribute to bus workers, thanking those involved for working "round the clock to keep London moving in the face of the appalling violence and thuggery".
The Prime Minister's letter also commended a service controller who was assaulted in Tottenham when riots began on Saturday August 6, but worked through the night with a broken wrist. Responding to the Prime Minister's comments, transport commissioner Peter Hendy CBE said: "I welcome and echo the recognition of the simply outstanding job undertaken by staff right across London's transport networks."
Unite general secretary, Len McCluskey, also praised the dedication of bus workers during last week's riots but warned they should not be expected to "drive into battlefields".
He said: "Workers need to know they can go about their business in the community in safety, particularly in the transport sector where bus drivers have been placed in the most dreadful and dangerous of situations in recent days.
"Bus workers have shown their dedication by turning out for work as normal but this union has made it clear we cannot tolerate circumstances which endanger either the workforce or their passengers."