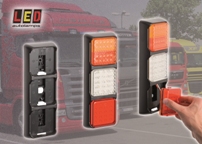 LED Autolamps, manufacturer of commercial vehicle LED lighting, has introduced a new vertically mounted rear lamp for vehicles with limited fitting space, such as specialist rear-access vehicles including minibuses. Made from tough and durable ABS plastic, the bracket has been specifically designed to accept LED Autolamps' 80 series rear lamp modules.
 The square rear single- and multifunction lamps can be simply clicked into place and hardwired. In the event of damage, the lamps are very easily unclipped individually and replaced as necessary in a matter seconds, reducing downtime to an absolute minimum and eliminating the need to replace the whole unit.
This unique mounting bracket has been specially designed to accept LED Autolamps' 80 Series lamp part numbers, 80BSTIME Stop/Tail/ Indicator lamp, 80WME Reversing lamp, 80FME Fog lamp and 80AME Indicator lamp. Each lamp is 12/24 dual voltage capable, carries a 5-year warranty and comes with sealed electronics and 40cm of hard-wired cable. Current draw at 13.8 volts ranges from 0.04 to 0.42 Amps dependant on function. The overall size of the bracket with three lamps fitted is 278 x 98 x 45mm.
Maurice Bibb, commercial director Europe, LED Autolamps said, "This latest durable mounting bracket meets the needs of fleets and workshops looking for a practical, simple and effective way of fixing ECE approved vertically mounted rear lamps to specialist rear-access vehicles."