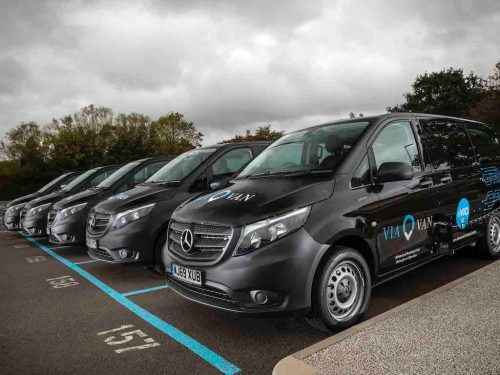 ViaVan, a joint venture between Daimler and US firm Via, has upgraded its fleet to fully electric Mercedes-Benz Vito eTourer vans in Milton Keynes.
The Milton Keynes operation has only been running a year, initially with diesel-powered vehicles, but ViaVan says it has delivered more than 100,000 rides in Milton Keynes since it launched a year ago.
ViaVan Chief Executive Chris Snyder told Yahoo Finance UK that "Milton Keynes was picked as the first place to launch the e-vans in Britain because the city's goal is to be carbon neutral by 2030.
"Milton Keynes is the city that was designed for cars, and the challenge is how do you make something attractive enough to convince people to take it.
"The bus…works in many places, but also doesn't work in many places and we see on-demand shuttles as essentially a new layer to public transport. In some ways, the opportunity to improve public transport in somewhere like Milton Keynes may be one of the most pressing challenges from a transport perspective," Chris added. "Milton Keynes is exemplary in a sense of the challenges we face all over the country."
Chris said the Milton Keynes launch is "a really interesting success story already for how the public sector, cities, and private companies can work together to create solutions that work for people, work for cities, and are green."
Supporting the ViaVan electric-fleet is The Department of Transport, which is supplying a grant of £544,000. Transport minister George Freeman said that ViaVan's launch "shows industry is taking full advantage of the support on offer from Government for those looking to switch their fleets to electric."
Initially, ViaVan Milton Keynes has started with a fleet of five Mercedes-Benz Vito eTourer vans but plans to increase that number to 30 by 2020.