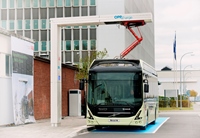 SWEDEN Volvo Buses and ABB have inaugurated a charging station at the bus terminal in Arendal, Gothenburg for electric buses based on the open OppCharge interface. With OppCharge, electrified buses and charging stations from different manufacturers can be used together. The aim is to facilitate the introduction of electric bus systems in cities the world over. The Gothenburg station is ABB's first charging station for electric buses in Sweden.
The aim of this cooperative venture is to cooperate on the development and commercialisation of electric buses and electric hybrid buses equipped with systems for DC opportunity charging using open standards. Demonstrations of buses and charging stations both as products and systems offer a clear picture of what installation at the customer's premises looks like.
With the new charging station, Volvo is showing that the company's electric buses are compatible with chargers from several different manufacturers. The buses operating on route 55 in Gothenburg are now charged using systems delivered by ABB and Siemens.
"It feels great to be working together with ABB inaugurating yet another charging station based on the open interface for opportunity charging, OppCharge," said Håkan Agnevall, President Volvo Buses. "Both Volvo electric buses and buses made by other manufacturers can use this charging facility. With OppCharge the world's cities can rest assured that electric buses and charging infrastructure from different manufacturers are compatible with one another and that there is no risk of being restricted to specific manufacturers. This creates the right preconditions for accelerated transition to electric bus systems in cities all over the world."
"We're delighted to be involved and to contribute to sustainable and cost-effective transport solutions while at the same time meeting the needs of cities that are continuing to grow," said Robert Larsson, Division Manager, ABB Discrete Automation and Motion in Sweden. "The simplified use of electric vehicles is a competitive solution for the future that we, together with Volvo, want to offer."