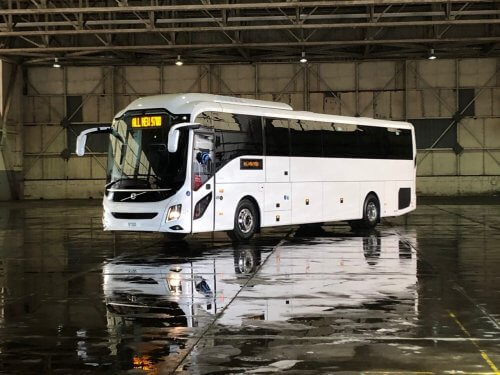 Wednesday 28 April marked the official launch of the new Volvo 9700 integral coach to the UK and Irish markets.
The vehicle announcement was made at 1200hrs via a specially created
reveal video
hosted on the company's official social media channels.
Built on the B11R driveline, Volvo says the 9700 'blends luxury, performance, practicality and flexibility for any operation.'
David Porter, Sales Manager for Volvo Bus UK & Ireland, said: "After a hugely challenging 12 months for the whole industry, we're delighted to announce some really positive news. The launch of the Volvo 9700 complete coach to the UK and Irish market is an exciting development for customers and Volvo Bus.
"Operators will no doubt be familiar with the new Volvo coach family, the 9700 shares many of the futuristic design features incorporated into the 9900 coupled with others, such as PSVAR capability making it the perfect, versatile addition to our customers fleets.
"We know as the industry is getting back on its feet, operators will be reassured by having the support of a manufacturing partner, who understands more than ever the importance of reliable vehicles and quality aftermarket back-up and support. Volvo Bus, the 9700 and Volvo's dedicated dealer network delivers this and more."
The new 9700 forms part of what Volvo Buses described as the' biggest revision of its European coach range in recent history.'