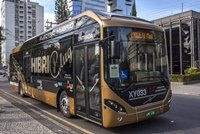 BRAZIL Volvo Buses is starting demonstration tests of an electric hybrid in Curitiba, Brazil where it will operate on the 11.2-km Juvevê-Agua Verde route used by around 2,200 passengers a day for six months. The battery charge station is at a bus stop on a square on Menezes Dória street in the district of Hugo Langue, close to the Agrarian Sciences Sector of the Federal University of Paraná.
The electric hybrid offers flexibility because it can operate in 100% electric mode in defined areas (when there are no emissions of pollutants or noise), and in hybrid mode anywhere along the route.
The project is the outcome of a global partnership between Volvo and Siemens, which developed the quick charge stations for the batteries of the electric motor, affording vehicles longer operating periods in electric mode, reducing the use of fossil fuels. The system reduces up to 75% the consumption of diesel and, consequently, emission of pollutants. In addition, the model's total energy consumption is 60% lower than those powered by diesel, representing a significant environmental gain for the city.
This hybrid electric is the second generation of low or zero emissions buses developed by Volvo. The battery of the electric motor, in addition to receiving quick charges at stations, is also charged with the energy generated when the vehicle's brakes are applied, similar to what already happens in the hybrid models already in circulation in Curitiba. The vehicle is the standard type, with capacity for 91 passengers. With a modern design, it offers passengers comfort, Wi-Fi and accessibility.
"This is one more step taken by Curitiba towards sustainability," said Gustavo Fruet, mayor of Curitiba about the entry into service of the bus. "We want to increasingly incorporate new technologies and reduce our levels of emissions of pollutants – thinking about solutions that drive benefits for the highest numbers of people and that place the collective interest above the individual."
"This vehicle is one more step we are taking towards consolidating Volvo's electro-mobility project in Latin America," added Luis Carlos Pimenta, President of Volvo Bus Latin America. "We have a long track record of partnership with Curitiba, city where the Volvo Group's headquarters for the continent are located, with a history of demonstration and development of technological solutions in transportation that offer higher quality to transport systems at the same time they address global demands and commitments in reduction of emissions."