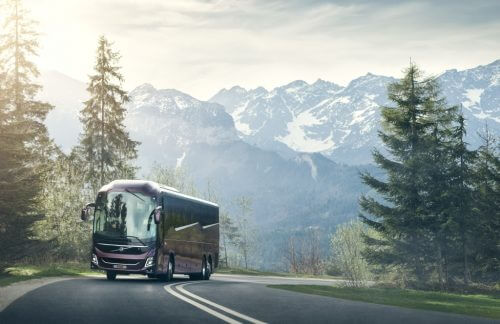 Volvo in Sweden has officially revealed its new platform for long distance coaches, which it says has an 'innovative design and high comfort' – and will persuade more people to travel by coach.
Håkan Agnevall, President of Volvo Buses, said of the new range, "This is a historic step, the biggest renewal of our European coach range for more than 20 years. I'm convinced that our customers and their passengers will appreciate the result."
The range includes two models: the 'luxurious' 9900 and the 'versatile' 9700. Both feature a completely redesigned exterior, which the company says takes aerodynamics 'to a new level'.
The 9900 incorporates a new 'Z-shaped' window line; in combination with a gradient 'theatre floor' seating arrangement, this creates a totally new design language for coaches.
On the interior of the new coach, both visual and tactile quality was considered to be of paramount importance. A 'calm and balanced' colour palette – with a combination of leather and textiles – is set off by metal accents.
Ergonomic passenger seats and a well-insulated interior with low noise levels are also said to be key features of the new coach – and the climate unit has been developed to keep temperatures inside consistent irrespective of external conditions.
The new 9900 offers an extra-high floor and large windows, which – the company claims – provide excellent views to the front and sides.
Compared to the previous-generation model, the interior roof is eight centimetres higher. Combined with a straighter transition between the walls and the roof, this creates an airier, more spacious feel.
Safety has also been improved on both the 9700 and 9900; new features include a 'more robust' frontal impact protection system (FIP) and a Driver Alert system which monitors the vehicle's movements and issues alerts if the driver is tired or not focusing on the road.