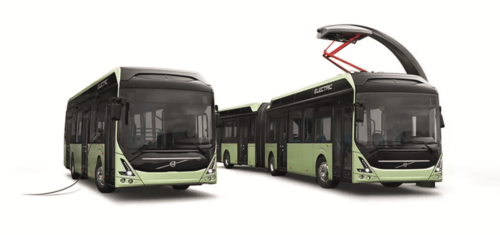 SWEDEN
Volvo Buses has signed a Letter of Intent with the UK bodybuilding partner MCV with the intention that MCV will produce bodies for its electric buses for the city and inter-city segments in European markets once production ends at its own Polish bodywork plant as part of Volvo's plans to focus on chassis construction. Production is planned to start in the summer of 2024 and the first electric buses are expected to be delivered to customers in Europe in the beginning of 2025.
"We are very pleased that we have deepened our partnership with MCV since they have both the experience and the competence to produce bodies of the highest quality, meeting European standards and demands," said Dan Pettersson, Senior Vice President at Volvo Buses. "By cooperating with an external bodybuilder, we will have greater flexibility to better meet market requirements and customer demands."
MCV will produce bodies for the Volvo's 7900 rigid and articulated city bus range, and the two companies will work together to develop an electric inter-urban bus. Chassis production will remain at Volvo Buses' plants in Borås and Uddevalla, Sweden.
"We look forward to expanding our partnership with Volvo Buses and work together to create an attractive offer for their customers," said MCV President Karim Ghabbour.
MCV (Manufacturing Commercial Vehicles) was established in 1994 and is headquartered in Cairo. It supplies commercial vehicles to markets including Europe, Asia, Australia, Africa and Latin America, with a production capacity of 10,000 buses per year.