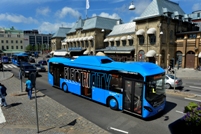 Electric fleet part of larger project to attract commuters to using public transport
SWEDEN Volvo is set to launch a fleet of silent, electric buses in Gothenburg, as part of the city's aim to become climate-neutral as well as tackle noise pollution.
Commencing in 2015, the electric buses will run between Johanneberg Science Park adjacent to Chalmers and Lindholmen Science Park in Hisingen.
The initiative, known as ElectriCity, was launched by Volvo in cooperation with the Swedish Energy Agency, Region Västra Götaland, the City of Gothenburg, Göteborg Energi, Västtrafik, Lindholmen Science Park, and Johanneberg Science Park.
In addition to the electric buses the scheme also includes the creation and trial runs of new bus stop solutions, traffic-routing systems, safety concepts, energy supply and business models.
The hope is that the project will attract more commuters to use public transport. This is also expected to clear the way for more, attractive public transport solutions in the Västra Götaland region.
Olof Persson, President and CEO of Volvo, said: "This represents an entirely new mode of travel and will allow for the public-transport system to contribute to a more pleasant environment. A silent and emissions-free public transport system will enable the inclusion of locations in the city that are currently off limits. It is immensely satisfying to be able to launch this in our hometown, in cooperation with Region Västra Götaland and the City of Gothenburg."