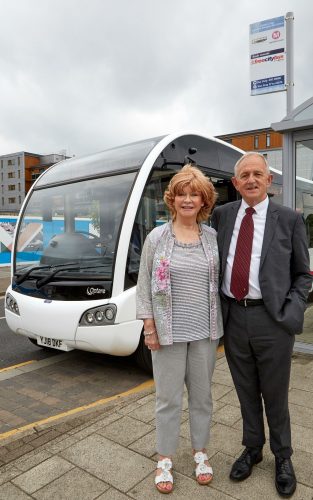 Wakefield's Free City Bus Service was relaunched last week with a fleet of 'new, modern vehicles' in a bid to make journeys more comfortable for passengers.
The service, which has been operating since 2007, provides transport for commuters and shoppers around the city centre – and is now run by Tetley of Leeds.
It will continue to run every 10 to 12 minutes from 0730hrs to 1840hrs on weekdays and between 0830hrs and 1700hrs on Saturdays; stops include Kirkgate Station, Westgate Station, the Bullring, city centre shopping areas and the Hepworth Wakefield.
The Euro VI-compliant Optare Solo SRs will be used by hundreds of passengers each day, cutting the number of cars on the city's roads.
Cllr Denise Jeffery, Cabinet Member for Economic Growth and Regeneration at Wakefield Council, said:
"The free bus service is now in its eleventh year and continues to be very popular. I am pleased that passengers will be able to enjoy the comfort of new, modern vehicles as it's a great way for commuters, shoppers and visitors to get around the city."
The service is funded by Wakefield Council and by the West Yorkshire Combined Authority.
Cllr Keith Wakefield, Chair of the West Yorkshire Combined Authority Transport Committee, said:
"Since they were introduced in 2007, Wakefield's Free City Buses have clocked up over one million miles – the equivalent of about four journeys to the Moon – and have been used by around four million people to travel between the city's main transport, shopping, leisure and cultural locations.
"These popular Free Bus services, which the Combined Authority also supports in Dewsbury and Huddersfield, help support local economies and ease congestion, and I am pleased to see that the new vehicles have been built by Leeds City region company Optare."
Ian Tetley, Managing Director of Tetley's Motor Services, said:
"Tetley's Motor Services are delighted to have the opportunity of working in partnership with Wakefield Council and WYCA to continue a popular and well patronised service. The new Optare Solos have the very latest Euro VI diesel engine technology with significantly reduced emissions."