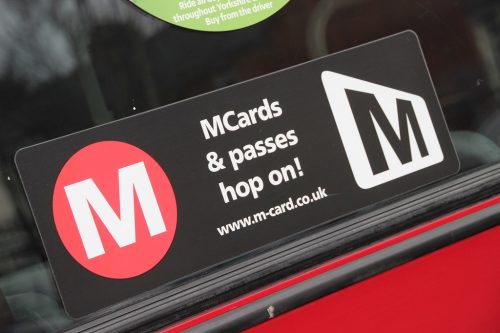 Over 16.3 million MCard journeys made in 2016 – 20% rise on previous year
As numbers of MCard transactions made in West Yorkshire top 16 million, West Yorkshire Combined Authority (WYCA) Chairman, Cllr Keith Wakefield, has welcomed the huge impact of the north's largest travel smartcard scheme.
Cllr Wakefield said: "In 2016, the number of bus and train journeys made by fare-paying passengers using their MCard was 16.3 million, which is a 20% increase on the previous year.
"MCard is one of the largest travel smartcard schemes outside London's Oyster card and it is making it easier for people to use local bus and train services, as well as helping to reduce delays as people search for cash and wait for change.
"This added convenience of MCards and the value-for-money they offer is one of the ways WYCA is improving the local transport network, which in turn underpins our local economy by connecting people with jobs and businesses with customers and suppliers."
Over 200 million bus and train journeys are made each year in West Yorkshire and passengers can use their MCard to tap on as they board any bus or at train station ticket gates.
Richard Armitage, MCard Chairman, said: "We have one clear goal and that's to offer passengers a joined-up transport experience across the region. Our customers can access any bus or train in West Yorkshire with one smartcard – the MCard.
"Over the past 12 months we've introduced the ability to top-up at 38 railway station ticket machines across our network and we've just installed new MCard top-up ticket machines at five Metro bus stations, Bradford Interchange and Castleford, Huddersfield, Leeds and Pontefract.
"The increase in smart journeys is testimony to our customers wishing to access best value travel in an easy and convenient way. The trend is continuing too: in the first two months of 2017 there have already been over 2.25 million smart journeys made.
"This is happening because bus operators, rail companies and WYCA have created an effective way of working together, through the West Yorkshire Ticketing Company. Together we're able to provide a smart offer that is truly connecting people and places, something we're delighted to be able to deliver."
Launched in 2014, MCards can be loaded with a range of multi-operator products such as weekly or monthly tickets and day-savers, designed to give passengers the best value for money when travelling. Pink cards don't have a photograph, so families and friends can share it to make savings.
White Pay-As-You-Go MCards can be topped up in £5 increments, and young people with one of the range of blue Young Person's Photocards or with a green 19-25 Student card can buy weekly or monthly bus travel.
MCard is owned and managed through a ticketing company made in partnership with West Yorkshire's bus companies and train operators.
A team based at WYCA is working with Transport for the North and other partners to deliver a scheme that will make it easier for passengers to travel seamlessly using their preferred payment method, confident that they have paid the cheapest possible on the day fare for their journey.
Transport for the North's Chief Executive, David Brown, said: "We are working in close collaboration with partners to deliver our Integrated and Smart Travel programme (IST) to transform passenger travel by rail, bus and light rail, right across the North. The programme will build on the successful MCard in West Yorkshire to develop smart-ticketing, payment and information technologies, making travel simple, attractive and convenient. The IST programme is part of TfN's vision to improve customer experience, increase efficiency across the transport network and contribute towards economic growth in the North."