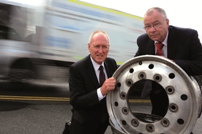 Plans for reporting mechanism for dangerous wheels
Mike Penning MP, parliamentary under-secretary of state for transport, has agreed to meet industry experts early next year to establish a reporting mechanism for companies to provide evidence of dangerous HGV wheels operating on UK roads.
The commitment was made during a Westminster Hall debate on November 29, 2011, with Labour MP for Wythenshawe and Sale East, Paul Goggins, who continues to lead the campaign on commercial vehicle wheel safety and the need for tighter regulation on second-hand wheels.
During the debate Goggins said: "The industry is prepared to put in place its own reporting mechanism, so it could say to companies throughout the industry, if they had evidence of any wheel failure, they could report it through a specially designed industry reporting system and it could be passed on to the Department for Transport.
"There have recently been a number of presentations on the issue to important industry bodies. ATS-Euromaster has had a presentation, as have the National Tyre Distributors Association (NTDA), the Northwest Automotive Alliance (NAA) and a meeting is due to take place with the Society of Motor Manufacturers and Traders (SMMT).
"I can tell the minister, further discussions are planned with those bodies about these concerns, which I can attest are growing concerns in the industry."
During the latest debate three pieces of evidence were presented to Penning: a picture of a cracked HGV wheel; an article on failing counterfeits entitled 'Killer Wheels'; and a recent ITV News report on the damage caused to HGV wheels due to the impact of potholes.
In response Penning said: "This is not only about the manufacturer of wheels; if the failure rates are increasing, and that is what this is all about—I am not disputing that one way or the other because, frankly, we do not know, and there is no point disputing something which is not disputable.
"I hope the trade associations will do what they said and get the submissions together and come as a united body to present their evidence. That will allow me to go away and ask why we have certain failure rates coming from all the different expert bodies mentioned in the speech I have not used, and to compare it with what is happening on the front line."
John Ellis, managing director of Motor Wheel Service, who first raised the issue with Goggins and continues to raise awareness of the problem, said: "A second meeting with the minister is a very important development and an invaluable opportunity to readdress current concerns, including current VOSA test and roadside inspections, and then really move towards a workable solution.
"Over the past few months we have approached the major industry bodies to introduce the issue, and it is important to note that in addition to those already on-board we are in the process of finalising a meeting with the Road Haulage Association (RHA) and we are also in correspondence with the Freight Transport Association (FTA), Tyresafe and the Institute of Road Transport Engineers (IRTE).
"During the course of the debate Mr. Penning said he regularly met with the RHA and FTA and representatives have not raised the issue. I will put to him that the lack of complaint supports our concerns by proving lack of awareness by company owners and drivers and reliance on tyre maintainers to resolve wheel problems which are subsequently never reported.
"We are committed to this issue and will continue to push hard on all possible fronts, commercial vehicle wheel safety is of paramount importance and must be addressed," concluded Ellis.
Motor Wheel Service estimates that over 10,000 second hand and take-off wheels entered the market in 2009, of which the large majority were sold by companies who do not possess the technical abilities or examination procedures to ascertain the history and fatigue of a wheel.
The company has constantly urged quality assurance managers to check their supply lines as should a wheel fail and lead to injury or death to either the driver or a third-party, possible repercussions include a fine, a licence suspension or, worst case scenario, Corporate Manslaughter charges.
Full Hansard debate here