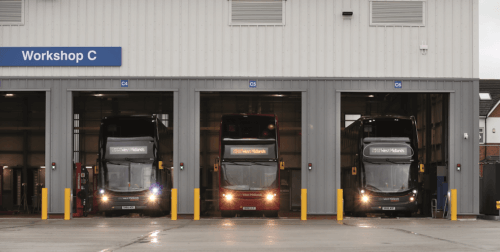 A new bus depot has opened in the West Midlands that utilises the very latest technology to be as green as possible
National Express West Midlands has opened its new environmentally-sustainable bus garage in Perry Barr in Birmingham as part of its push to improve the green credentials of its operations. After making their last departure from the current 90 year old depot on the morning of Saturday 10 December, a fleet of 170 buses returned from their routes to the modern facility at the junction of the city's Wellhead Lane and Aston Lane.
The 6.5 acre site will provide a new base for over 450 drivers, engineers and back office workers and includes a café, rest areas, a quiet space, shower facilities and training rooms, as well as a host of energy efficiency measures and the space to house a full fleet of electric buses and associated charging infrastructure.
Managing Director of National Express West Midlands David Bradford explained: "From the very start of the project, we wanted to create a site that offered our people a high quality working environment but to also ensure a low environmental impact in both the build and future operations."
Construction firm BAM worked with National Express to enable the depot to achieve a highly sustainable status. With space for over 170 buses, it includes 150 solar panels, a hybrid heating system including air source heat pumps and electric overhead radiant panels, with no need for gas heating, a 432m2 'green roof' planted with a mix of 22 species to air quality and provide habitats for wildlife, and an acoustic panelling to reduce noise pollution. A wild flower garden has also been planted behind the acoustic panelling to improve habitats for wildlife, whilst a self-contained water recycling system will be used for bus washes, along with rainwater harvesting for toilets and urinals.
David added: "By being able to design something from scratch, we've transformed how we work from top to bottom. Through evolving our garage and operations we'll use less energy, be even safer, have more efficient ways of working, and are better equipped to train and look after our people – while providing great value transport for the people of the West Midlands.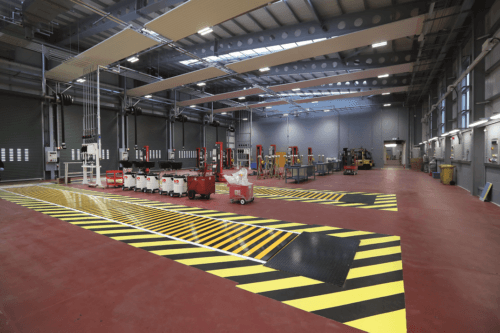 "Working in public transport is a fantastic career and we are actively recruiting both drivers and engineers to join us at our new Perry Barr garage. We've recently increased pay rates and improved flexibility with part time work, four-day weeks, and shorter week options. Full training is provided so I'd encourage anyone who is interested to get in touch."
The new garage is part of the wider regeneration of the Perry Barr area by Birmingham City Council. Councillor Ian Ward, Leader of Birmingham City Council, said: "As well as delivering new homes and improvements to community facilities, the programme of regeneration in Perry Barr is also delivering a range of sustainable transport options that will make the area one of the most well connected in the region. These include the revamped Perry Barr railway station, Sprint bus rapid transit routes, better options for cycling and walking – and also this brilliant new facility for National Express West Midlands.
"This investment in a new depot is helping lay the foundations for a cleaner bus network of the future. It's great that Perry Barr, which is undergoing such a significant transformation, is at the heart of this green progress."
BAM has been the principal contractor for the design and construction of the project. Construction Director Steve Roome said: "The success of this scheme is down to trust and teamwork. BAM has been able to adapt around National Express West Midlands' needs and to help them achieve a greener, lower carbon scheme. Our collaborative approach has worked well in giving our client the options they needed to deliver a fantastic new, future-proofed, facility both for their people and for the people of Birmingham."