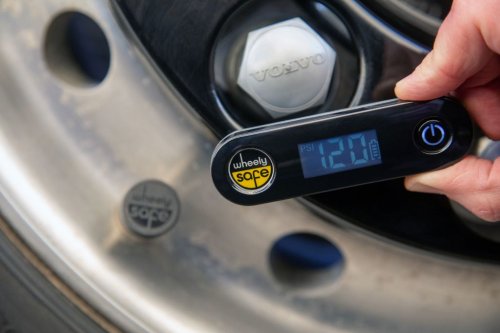 Wheely-Safe is making its intelligent tyre pressure monitoring system (TPMS), wheel loss and brake temperature sensing technologies available for connection to commercial vehicle telematics and CAN bus for the first time, with a new range of open platform connected devices available alongside its standalone products.
"Truck and bus fleets increasingly want everything running through their telematics and that brings huge advantages for the Wheely-Safe product," said Steve Jackson, Managing Director of Wheely-Safe.
"It means we can provide access to real-time pressure and temperature data remotely, which can help to prevent breakdowns and takes the guesswork out of organising tyre maintenance."
Wheely-Safe says its new generation of connected systems can be configured to ensure drivers receive immediate alerts in the event of an emergency, such as a loosening wheel nut, sticking brakes, hub failure or rapid deflation being detected. But now the use of telematics means these alerts can also be relayed directly to the transport office, enabling them to contact the driver and ensure immediate action has been taken.
Similarly, notification of non-critical events, such as when a tyre has dropped just below optimum inflation pressure, can be sent directly to the transport or workshop team, enabling rectification work to be organised when the vehicle returns to base and without interrupting the driver or their schedule.
Wheely-Safe is also launching an auto-calibrating internal TPMS sensor which can adhere to the rim of any size wheel. Protected by a global patent, this unique sensor can distinguish between intentional pressure adjustments, and genuine underinflation or leakage, and offers an extended battery life of 5-10 years, depending on vehicle utilisation.
Prices to equip a standard two-axle bus start from £250 for TPMS, or £350 to combine TPMS with wheel loss and temperature sensing capabilities. Systems are available directly from Wheely-Safe, and selected tyre dealerships.
For more information visit www.wheely-safe.com