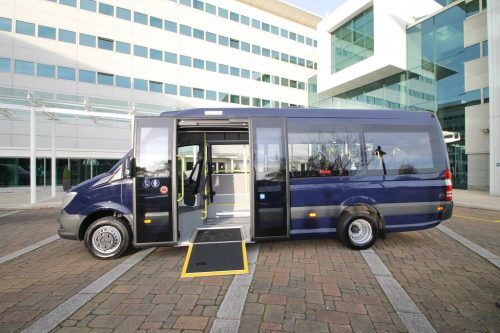 West Norfolk Community Travel (WNCT) has taken delivery of a Mercedes-Benz Sprinter City Low Floor from EVM.
The vehicle is powered by a Mercedes-Benz Euro VI 516 CDI 163bhp with common rail direct injection driven through a seven speed G-Tronic with 'Blueefficiency.'
Passenger entry is through a Masats double leaf rapid sliding powered entry door with the interior specification including 16 EVM Kiel Ligero seats, panoramic double-glazed saloon side windows, heater booster and LED destination displays are also specified.
WNCT was set up in 1992 to provide a range of safe, affordable door-to-door transport services for people who are unable to access public transport due to location, age or mobility issues.
The aim of WNCT is to provide services for people which contribute to increased levels of social inclusion. WNCT vehicles have low steps and tailgate lifts for people in wheelchairs.