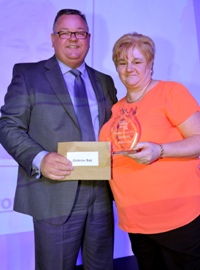 Woods Coaches of Leicester has helped celebrate local community carers with an awards party run by its local newspaper.
The ceremony was the culmination of a three-month campaign by The Leicester Mercury to find the area's top carers, with Woods Coaches as the headline sponsor.
Kevin Brown, MD of Woods, said: "It started as an idea from our PR man Mark Williams which immediately appealed to me. Rewarding those who give their time selflessly to care for the elderly and disabled had particular resonance with me, since my immediate family had benefited from these unsung heroes.
"Clearly, the age profile of our customers means many of them also have direct experience of the way in which some carers beyond the call of duty, whether they are caring for a family member or working at our many excellent care homes."
Kevin added: "It was absolutely vital that we got media support, and Leicester Mercury deserves credit for taking the awards to its heart, running all the nominations, judging, and creating a fantastic event to celebrate the winners."
From October to December, the paper ran articles about the nominees and found individual awards sponsors, running a special on the awards ceremony at St Martin's House in Leicester. BBC Radio Leicester presenter Julie Mayer hosted the event at St Martin's House as winners were chosen in nine categories.
Prizes donated by Woods included a coach holiday voucher.