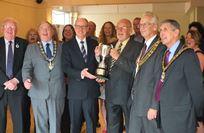 Roger Elsmere, the owner of Woods Travel in Bognor Regis, has been given the Britten Trophy by Bognor Regis Chamber of Commerce and Industry in recognition of how he has enhanced the town.
The award is presented annually by Bognor Regis Chamber of Commerce and Industry and has been running for more than 60 years.
Roger said he was very proud to receive the award and surprised at how many people had turned out for the presentation.
Among those present was Roger Turner, Deputy Lieutenant for West Sussex.
He said: "I can't imagine anyone more deserving to win this.
"It shows what can be done – how you can build up from nothing to become an international business."
MP Nick Gibb was also at the event and praised Roger's work within the community.
"Not only do you run a successful business in our town but also are involved in other things," he said.
"It is wonderful that your coaches can be seen around the UK. I think it is a well-deserved award."
Leading the presentation was the president of the chamber Nick Stuart-Nicolson who gave a 'This is Your Life' run down before handing over the award.
"Today is all about the indefatigable, indomitable and hugely likeable Roger Elsmere," he said.
"Roger has always received very many awards and accolades, including a lifetime achievement award. He is now waiting for the most popular man in Bognor Regis award – but I think we can get very close to that today."
Woods Travel was established in 1971 and is currently celebrating its 45 year anniversary. The business has expanded from a two-car taxi service, to have a 17 vehicle fleet of coaches running tours throughout the UK and continent.