TfL is investing £12m in the vehicles and fuelling infrastructure, with over £5m being added by European bodies and £1m from the Office of Low Emission Vehicles
Transport for London (TfL) is to introduce 20 Wrightbus StreetDeck FCEVs on three of the capital's routes next year.
The FCEV, which is claimed by its manufacturer to be the world's first hydrogen fuel cell double-decker, will work on routes 245, 7 and N7, transporting passengers to Wembley Stadium or from west London to the West End.
Besides their pioneering powertrain, the new buses include USB charging points to make travelling on them more attractive to passengers.
TfL is investing £12m in the vehicles and associated fuelling infrastructure, with over £5m in funding being added by European bodies and £1m from the Office of Low Emission Vehicles.
The vehicles will only need to be refuelled once a day for five minutes – much quicker than the charging time of a conventional battery-electric bus.
In a bid to encourage the take-up of fuel cell vehicles elsewhere in the UK and Europe, TfL is leading procurement within the 'Joint Initiative for hydrogen Vehicles across Europe' (JIVE) project.
JIVE aims to bring down the cost of the vehicles by buying in bulk with other authorities, helping to bring the price closer to other alternative-fuelled vehicles.
Sadiq Khan, Mayor of London, said: "We all have a role to play in cleaning up London's toxic air and I've always said that TfL should lead from the front.
"Following the launch of the world-first Ultra Low Emission Zone last month I'm delighted that TfL has signed a contract to bring 20 state-of-the-art, zero-emission hydrogen buses to London's streets.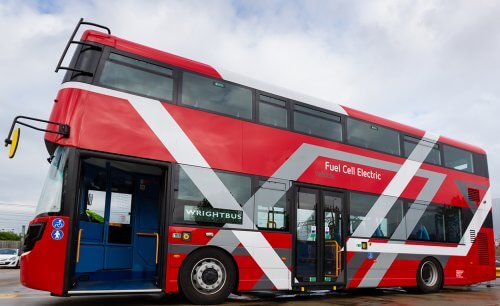 "We are investing a record £85m in cleaning up our bus fleet, and I am proud that London now has the largest zero-emission bus fleet in Europe."
Claire Mann, TfL's Director of Bus Operations, said: "London has the cleanest bus fleet in Europe, but we know we need to go further and faster to tackle the public health emergency caused by dirty air.
"Innovating and using hydrogen means we have flexibility in matching the right fuel with the operational requirements of the network.
"We are also pleased to be leading an initiative that brings down the cost of buying the greenest buses across the continent and within our own country, as we know pollution doesn't respect national or local boundaries."
Darren Shirley, Chief Executive of Campaign for Better Transport, added: "Millions of people across the country live in areas which currently exceed legal limits for air pollution.
"Cities need to be doing more to improve their air quality, including investing in clean technologies as a matter of urgency. We welcome this move to clean up London's bus fleet and its polluted air."