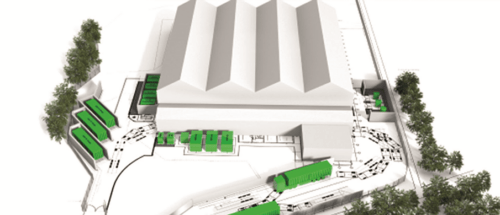 Wrightbus is planning to build a hydrogen production facility at its headquarters in Ballymena
Plans have been unveiled for a new green hydrogen production facility at the Ballymena headquarters of Wrightbus. Subject to planning approval, the new facility, which is being built in partnership with Hygen Energy, will initially produce enough fuel to power 300 hydrogen powered buses a day in Northern Ireland, Wrightbus says.
Green hydrogen is made by using renewable electricity to separate water into oxygen and hydrogen by electrolysis, which is then used on site or transported to where it is needed. Since being acquired by Jo Bamford in 2019, Wrightbus has become a strong proponent of clean hydrogen, and focused its efforts on producing its first hydrogen powered fleet of double-decker buses by 2020.
With the emphasis being placed on the role of green hydrogen in the drive for net zero, a focus and sticking point for the industry is ensuring there is enough hydrogen being produced to fulfil those ambitions, something which is currently holding back the deployment of Aberdeen's full fleet of 25 buses.
Chairman of Wrightbus Jo Bamford said: "Wrightbus is delighted to be working with Hygen on this hydrogen production project at our factory in Ballymena. One of our key objectives when we purchased Wrightbus in 2019 was to bring the first UK manufactured hydrogen double decker bus to market.
"We have done this, with our Hydroliner buses now moving passengers every day in a number of cities across the UK, including here in Belfast. Hydrogen is the best means of decarbonising many bus routes, but for this to happen bus operators need a reliable and voluminous supply of low cost low carbon hydrogen. It is great to see a project that is being sized to enable future demand for hydrogen here in Northern Ireland to be met.
"This project will initially be able to produce enough hydrogen to run up to 300 buses, and has the potential to triple in scale as demand for hydrogen increases. We hope it will set an example for how these projects will be designed and built."
Secretary of State for Transport Mark Harper MP visited Wrightbus to hear about the company's plans for the future, and met with members of the firm's senior management team as well as seeing production at the factory. He said: "I really enjoyed visiting the Wrightbus team in Ballymena, meeting the skilled staff and hearing how the company's groundbreaking hydrogen and electric buses can help us level up transport across the country.
"We're determined to decarbonise transport, and with our £320 million investment to support the roll out of 4,000 zero-emission buses, we are making our net zero transport network a reality."
Ian Gillott, Managing Director for Parts and Services at Wrightbus, who led the visit, along with Director of Engineering Robert Best, said: "We were delighted to be able to share with the Secretary of State our vision and plans for Wrightbus and what this means for Northern Ireland and the wider United Kingdom. Wrightbus has a clear plan in place to increase the ease and affordability of zero-emission buses. We believe hydrogen fuel cell buses can and should be used and powered across the UK and Ireland.
"This is an exciting time in the history of Wrightbus. We are at the forefront of hydrogen and zero-emission technology and, as such, continue to explore and invest in new opportunities to develop this sector."
A community consultation process for the project is now underway, led by Hygen development partner Renewable Connections and aimed at encouraging people in the vicinity of the site to provide their feedback on the proposed project before any planning application is submitted. It is intended that the planning application will be submitted to in April, and hoped that a planning decision will be issued this winter, meaning the facility could become operational in summer 2024.