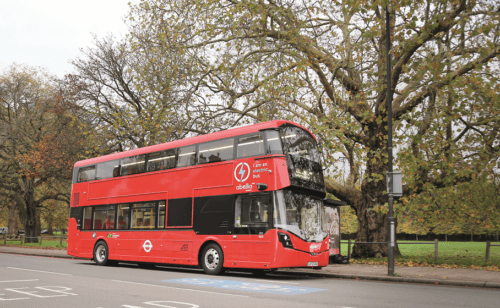 The funding, which consists of £32m of new money and a renegotiated £18m, will allow Wrightbus to expand its export market
Wrightbus has received £50 million of new funding to boost exports of electric and hydrogen-powered buses, supported by a loan guarantee from the UK's export credit agency UK Export Finance. With Government backing, the company plans to double its workforce in the next three years, creating 1,000 new jobs, and expand the sale of its zero-emission buses to new markets in Europe, North America, Singapore and Hong Kong.
The Export Development Guarantee will mean that the export credit agency guarantees 80% of the loan from Barclays Bank. The financing builds on previous government support announced last year, and gives Wrightbus additional working capital support as well as a more flexible way to deploy the funds to support its business needs.
The announcement was made a week after Minister for Investment Lord Johnson visited Wrightbus' site in Ballymena as part of a wider visit to Northern Ireland. Lord Johnson said: "Wrightbus is a fantastic example of a British business seizing the vast exporting opportunities around the world and embracing clean growth. UK Export Finance support for Wrightbus will be a great boost to its exporting journey, helping the company to create more local growth and jobs. This is the type of success we will build on at this autumn's Northern Ireland Investment Summit, which will be a catalyst for securing more investment, creating more jobs and empowering more businesses to seize exporting opportunities."
The company says it generated 27% of its revenues from exports in 2022 and is seeking to grow this by nearly a fifth by the end of 2023, thanks in part to the UK government's support.
Wrightbus CEO Jean-Marc Gales said: "UKEF and Barclays' support has been fundamental to the development of Wrightbus. The flexible products suit the needs of our business, which is growing exponentially and requires financial headroom. We are excited about our next phase and working within the Ballymena and wider Northern Ireland community to deliver innovative British technology to the global market."
Global Head of Trade and Working Capital at funding provider Barclays James Binns said: "Barclays is proud to work alongside UKEF to enable British companies to get the competitive edge when it comes to exporting. This new funding builds on our previous support to Wrightbus, providing crucial flexibility which will enable further growth in exports and domestically, continuing the vital pivot towards zero-emission sales."
The £50m of funding is made up of £32 million of new funding, plus the replacement of an £18 million contract-specific Export Working Capital Scheme previously issued to Wrightbus in 2022 by £18m of new, general (non contract-specific) working capital funding, providing longer and more flexible
repayment terms.