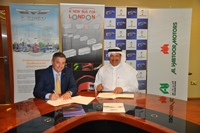 MIDDLE EAST Wrightbus International has signed strategic alliances with two automotive groups in the Middle East, Al Habtoor Group in Dubai and The Zubair Corporation in Oman.
Under the new agreements, they will become the official distributors for Wrightbus International's products in the United Arab Emirates and Oman respectively. Their main automotive experience comes from the car industry, working with brands such as Bentley, Bugatti, McLaren, Audi, Volkswagen and Mitsubishi. Both have aftersales divisions and alongside Wright Customcare will be able to offer support for Wrightbus International clients across the region.
Paul Brannigan, Wrightbus International Middle East Manager, who heads up the company's office in Masdar City, Abu Dhabi, said: "We are both honoured and delighted to form these new relationships with Al Habtoor and Zubair and pleased to have them acting as our official distributors as we enter an exciting stage of our growth plans for the Middle East.
"We see a great synergy between ourselves and our new partners as both are highly respected in working with the most prestigious automotive brands in the world and both enjoy excellent reputations in the GCC (Gulf Cooperation Council) and beyond. We believe this heralds the start of mutually successful and long term relationships for us and comes at a time when we are penetrating new market segments across the Gulf region."
Joe Rogan, Prestige Director of Al Habtoor Motors, said: "Wrightbus has an excellent reputation for the quality, design and latest technology of its bus products all around the world. We are excited to be made their official distributor for the UAE and are looking forward to working with them to grow their market share in the UAE."
Jagdish Parulekar, CFO for Al Habtoor Motors, added: "We are proud of our new association with Wrightbus, a truly innovative bus manufacturer with a long history and global presence. Wrightbus has an excellent global reputation based around the quality, design and latest technology of its bus products."