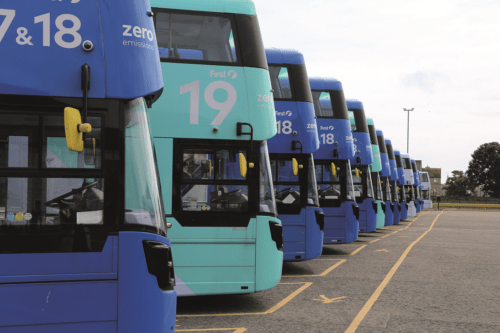 The northern Irish firm is to develop a hydrogen coach demonstrator within the next 12 months
£22.7 million is being invested in 12 fast-start projects for the accelerated development of automotive products with a potential route to market, made up of £11 million in Government support through the Advanced Propulsion Centre (APC) matched by industry funding. Successful applicants for the funding will now complete and deliver a product, system, or vehicle within 12 months.
Announced ahead of the Cenex-LCV Cenex-CAM show, a range of UK-based SMEs and multinationals at the forefront of vehicle innovation are benefiting from the latest Advanced Route to Market Demonstrator competition (ARMD2) from the APC, including the development of electric first responder motorcycles for the emergency services, electric delivery vans, fuel cell technology, electric drives and motors, as well as tractors and composite materials.
CEO Ian Constance said: "The Advanced Route to Market Demonstrator competition is a distinct offering from the APC as it sees the development of a new, tangible product in such a short period of time. The successful applicants all have fantastic proposals that now have the green flag to kick-start. In just 12 months we will see the fruits of this £22.7 million investment from both industry and Government. Given the success of the previous round, the dozen projects we've funded today will be ones to keep an eye on when they are delivered next year.
On the latest announcements by the UK Government for grants to the automotive sector, Minister for Industry and Economic Security Nusrat Ghani said: "The UK automotive sector is at the cutting edge of exploiting innovative technologies. These have the potential to create jobs, grow the economy and accelerate how we reach net-zero. This package of funding will help industry and government work together and take decisive action in targeting areas where the UK is leading the way. This government has shown time and time again that we are committed to creating the right conditions to make the UK the best location in the world to manufacture."
In the coach and bus sector, Wrightbus is to develop CoacH2, a next-generation hydrogen fuel-cell coach powertrain demonstrator, accelerating the development of zero-emission hydrogen fuel-cell electric coaches with a full on-vehicle technology demonstrator.