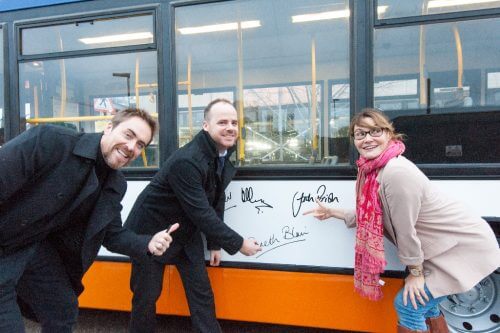 Southampton Hospital Charity and Xelabus have launched a charity branded bus to promote the new Children's Emergency and Trauma Department appeal at University Hospital Southampton.
The bus will run over the duration of the appeal until Summer 2018. It will appear on Xelabus routes in Southampton and Eastleigh and will be making a series of 'VIP stops,' where celebrities and prominent figures in Hampshire will 'sign' the bus.
Kicking off the signatures were actors Jim Murray and Sarah Parish from The Murray Parish Trust.
Sarah said: "As the charity partner of Southampton Hospital Charity on the Children's Emergency and Trauma Department appeal, we are delighted to open this exciting bus project."
Jim added: "We think it is a fantastic opportunity to not only get the key messaging about the appeal out there in the community but also to encourage influential figures to get involved and show their support by leaving their mark on the bus."
Gareth Blair, Managing Director of Xelabus, commented: "We are delighted to partner with Southampton Hospital Charity on this fantastic project having previously supported their Piam Brown Children's Cancer Ward refurbishment appeal.
"The prospect of a new Children's Emergency and Trauma department is incredibly exciting for not only Southampton but all of central southern England, and a cause we wholeheartedly support.
"The bus will be seen across many different routes in the area and is a great way to visually get people talking about this appeal that will mean so much for the community. We at Xelabus extend our thanks and gratitude to our friends and colleagues at Lime Signs, Romsey and Hants & Dorset Trim for their generosity in this project."