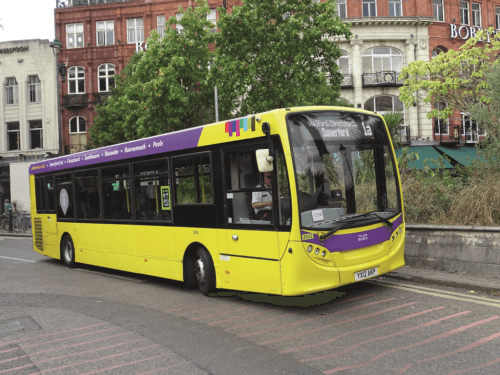 Bournemouth Transport ceased trading on the evening of 4 August, as no buyer could be found for the Yellow Buses business, whilst Yellow Coaches operations have been split and found two buyers
Bournemouth-based Yellow Buses operated its final bus service departures at 1800hrs on Thursday 4 August and then ceased trading after a buyer could not be found for the bus operation.
It was announced on 29 July that Bournemouth Transport, which trades as Yellow Buses, had fallen into administration. Administrators Milsted Langdon LLP said in a statement "Yellow Bus has suffered from the challenges of the Covid period and the changes in lifestyle habits which have followed, with more people working remotely and some people still being reluctant to travel on public transport.
"All of this has severely reduced passenger numbers on all routes. This loss of revenue has had a financial impact on the business and additional factors such as the recent increase in fuel prices and the general rise in inflation has only made that greater. The directors have, for some time, been looking for outside investment or a purchaser to take Yellow Buses on to the next stage of its life.
"They felt that as a small independent business it was unable to handle the current challenges alone and hoped that by merging with a larger operator it would provide them with a broader platform from which to operate. Unfortunately, those negotiations take time, and during that time the business was coming under increasing financial pressure. Negotiations with one of those parties, a large national operator, have entered the final stages and we hope to be able to conclude within a matter of days."
On 3 August, Milsted Langdon LLP announced that it had informed staff that the new, undisclosed, buyer of the company did not wish to keep the Yellow Buses division of the business going but was going to save 50 jobs by purchasing the coach operation and engineering facilities. Administrator Simon Rowe said in a statement: "It is hugely disappointing that we weren't able to secure the remainder of the business and the jobs attached to it.
"We have informed the staff of the position and I would like to thank all of them for their patience and understanding over the last few difficult days. Unfortunately, in the end, the financial challenges which the company faced during its trading life meant that every buyer we spoke to felt that the prospects were not commercially viable."
On the 4 August, National Express told local newspaper the Daily Echo in a statement: "We can confirm that we are in final discussions with Administrator Milsted Langdon to purchase the coach and engineering operations of Bournemouth Transport. We will not be purchasing the bus business."
In a further twist, it was then announced on 5 August that Xela Group was to purchase the Yellow Coaches operation, and continue to operate the company's private hire, school and megabus contracts. The Golden Tour Bournemouth and Poole open-top tours that were being operated by Yellow Coaches ceased on Sunday 7 August.
National Express told CBW on Monday 8 August: "National Express can confirm that we have completed the purchase of the coach and engineering operations of Bournemouth Transport Ltd. This does not include the Yellow Coaches brand or its private hire work.
"We are pleased that this will safeguard 50 jobs and look forward to welcoming our new colleagues into the National Express family. Our management team has already been speaking to individuals and teams to manage the relevant processes and we are positive about the future of our operations in Bournemouth.
"This purchase will ensure we can maintain the services previously run by Bournemouth Transport Ltd on behalf of National Express and continue to offer the UK-wide network of great value, convenient and quality intercity scheduled coach services that we are so well known for."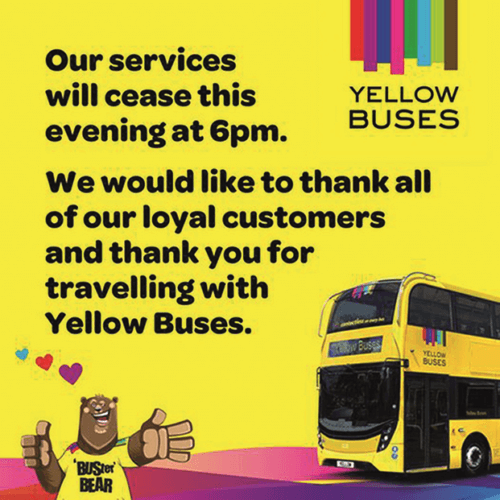 Morebus fills the void
Neighbouring operator Go-Ahead Group-owned Morebus stepped in to launch 10 new services from Saturday 6 August. Morebus Managing Director Andrew Wickham said: I am in awe of this incredible operation by my team, to ensure our local community is able to keep moving. With little more than 48 hours' notice, we have been able to recruit more than 100 new staff and implement a raft of new services which, despite their speedy introduction, have run even more smoothly than expected. Given the short time we have had to react, there will inevitably be some minor teething troubles, and we will be working hard to resolve these over the coming weeks.
"Our recruitment event in Bournemouth at the weekend was so successful that we were in a position to add three more services to our operation – routes 18,33 and 36 – on behalf of BCP Council.
"I'm delighted by the reception we have had from our new customers across the region, and it has been wonderful to welcome them on board. We're pleased to have been able to step in and help them get where they need to go, and I'm looking forward to increasing our offering still further – including the popular open top seaside services, which will be back next year.
"I'd like to thank the entire team at Morebus – including our new colleagues – who have worked incredibly hard to ensure such a smooth and efficient transition."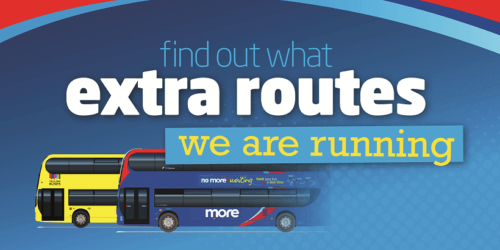 Full details about the closure of Yellow Buses can be found in our feature from page 16 of this issue.